I know plenty of purists who won't use third-party Windows tools if a Microsoft-supplied tool or facility will do the job. I am not such a person, and I'm happy to use third-party tools that either do things that Microsoft doesn't do, or do as well as they do. Because Voidtools Everything finds files fast, it's part of my standard Windows 10 desktop runtime. Oh, and it's free, imposes little overhead, and — in my experience — runs faster and works better than Microsoft search. I usually get what I'm after before I've finished typing my input string.
Because Voidtools Everything Finds Files Fast, Use It!
The Everything FAQ provides a peachy overview of the tool, and explains its speed, behavior and workings. That said, Everything is primarily a name search tool for files and folders. It provides only limited visibility into file contents (that's a search tool of a different stripe). The developers say that Everything takes about 1 second to index a fresh Windows install (about 120K files) and a minute to index 1M files. It really is fast, based on personal experience. It can also access files on FAT volumes, network storage, and flash devices (but minor configuration wiggles in Tools → Options → Folders are required, shown below).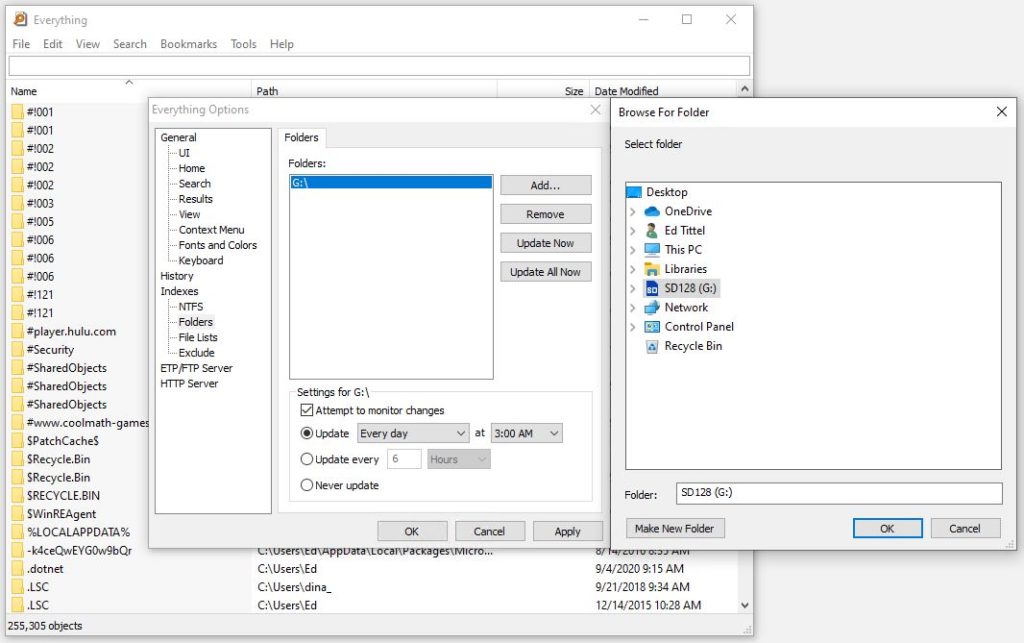 FAT-derived volumes (like those on SD cards and UFDs) don't show up by default in Everything. But they are easy to add.
[Click image for full-sized view.]
Working Search for Everything It's Worth
OK, bad pun, I know. But you can use boolean operators and wildcards in Everything much like you do at the Windows command line. Everything also supports advanced search for more complex search strings that also include the program's content search functions (warning: these are slow because Everything does not index content in advance). For me the Advanced Search window provides the complex functions I need. Check it out: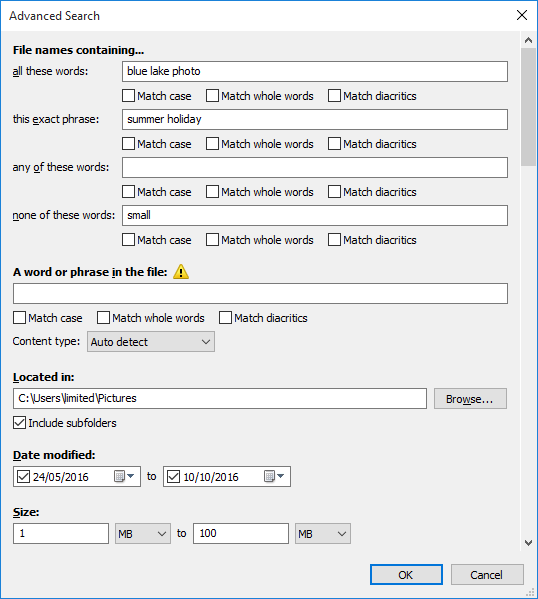 Advanced search offers a variety of pattern definition and matching functions. Works like a champ, too!
If, like me, you have lots of storage and millions of files at your fingertips (right now, Everything says it's indexed 1.4+M objects for me), Everything is handy and useful. If you try it out, you'll probably end up keeping it around and using it regularly. I use it dozens of times a day, every day myself.