Lately, I've been using the Winget PowerShell applet to assist with updating my Windows 10 and 11 PCs. Thanks to Martin Brinkmann at Ghacks, I've found a GUI front end for that tool. Indeed, the aptly-named WingetUI offers useful update capability.
Winget.UI does other things, too. It let you explore all 3460 packages under its purview ("Discover Software" tab). It also shows a complete list of all packages already installed on your PC ("Installed applications"). On first blush, Winget.UI looks like a good tool. Its GitHub page provides the lead-in graphic for this story.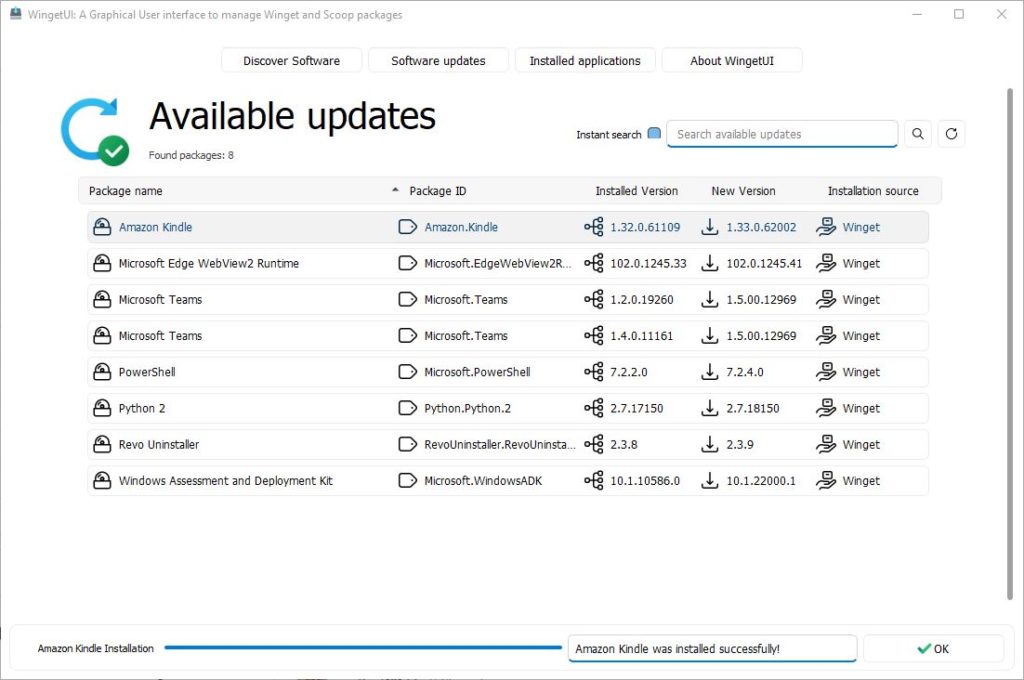 "Available updates" quickly identifies and provides ready access to item-by-item update launch. [Click image for full-size view.]
What WingetUI Offers Useful Update Capability Means
To update an item from the Software Updates tab in Winget.UI (shown above), simply double-click its corresponding Winget entry under the "Installation source" heading. Personally, I find this prefereable to the winget upgrade --all command. Why? Because it provides item-by-item control. That lets me skip elements (such as MS Teams), which experience has taught me isn't really amenable to winget updates.
The double-clicking takes a little getting used to, but by and large the update function works well. It worked well for third-party packages, including Kindle, Python 2, and Revo Uninstaller. It hit errors on some built-in MS components, such as the WADK and Edge Runtime. Based on prior history, I didn't even try the Teams components.
Good, But Not Perfect
I'll need to spend more time with WingetUI to fully understand and appreciate its foibles and strengths. For now, it's much like other update tools I use: good — indeed, pretty helpful — but by no means either great or perfect. Perhaps that's just the way that update tools work here in Windows World!
[Note: Nochmals Danke schoen to Mr. Brinkmann for an interesting find.]