Once upon a time, if one wanted to manage laptop batteries intelligently, one needed the OEM to provide a utility. No more. With the latest Insider Preview, Canary 26002 gets Energy Saver capability built in.
You can see this on display in the lead-in screen shot. It shows the notification area expanded to include a new "Energy Saver" entry (right). What's more. if you right-click that item, it will open Settings for you. There you can easily get to the Power & Battery display (left) that shows Energy saver is turned on and always running.
Why Canary 26002 Gets Energy Saver Is Good News
Many, many years ago — I think it was in the early 2000s — I translated an article for Toms Hardware from German into English. It dealt with the issues involved in keeping batteries alive as long as possible. This could be a problem for units whose chargers remain plugged-in more than running off battery.
Indeed, it had long been the case that laptop makers had to furnish a special utility that would monitor battery charge levels, usage patterns, min/max for charge and discharge (and more) to keep track of things. You can see evidence of this even in my 2021 vintage Lenovo ThinkPad P1 Gen 6 Mobile Workstation. Here are its Battery Details (from Lenovo Commercial Vantage):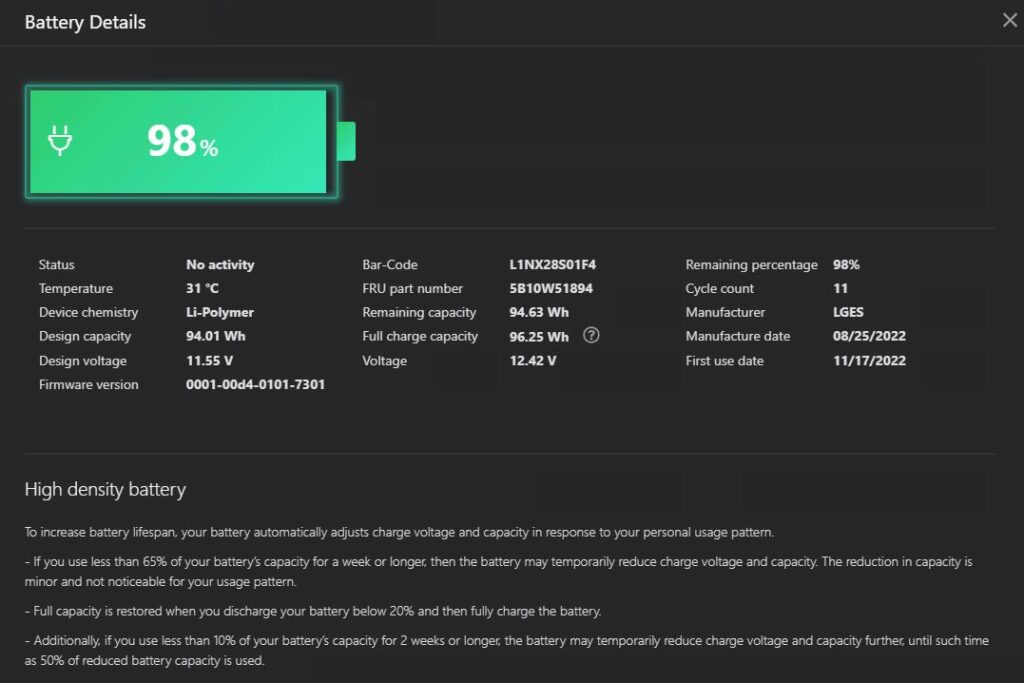 Lenovo tracks all kinds of battery levels and stats.
[Click image for full-sized view.]
With this latest addition, the OS can keep track of this kind of thing for any and all battery-powered PCs. It can also manage charge levels and energy consumption to ensure long batter life while also minimizing actual energy consumption. This is a great step forward, and a good thing for laptops, users and the environment. I approve!