As it turns out, I should've read the Microsoft announcement more carefully. The Windows Insider blog post that announced a new Experience Pack warned me that things would be different for Beta Channel and Release Preview PCs. It said: "For Windows Insiders in the Release Preview Channel, this will be an optional update for you." I just didn't pay sufficient attention. And that, dear readers, led me to some unnecessary but still effective Experience Pack 120.2212.3920.0 follies yesterday.
What Kind of Experience Pack 120.2212.3920.0 Follies?
The kind where I decided that because WU didn't offer my Release Preview PC an obvious and immediate download, I would get it by other means. So, I turned to TenForums.com, where sure enough. I found a thread with a link to a reliable online source. Because this was a .CAB file, I then ran DISM /add-package … to get it installed. It worked!
Then I found out that the Release Preview mechanism differed from the Beta Channel one. Beta Channel (Surface Pro 3) got a direct offer from WU. Release Preview had a new item show up as an "Optional Update" — just as the afore-linked blog post said.
Sigh. One of these days, I'll slow down and pay more attention. I swear. As Jerry Pournelle used to say in his Byte column from Chaos Manor "Real soon now." Fortunately, there's usually more than one path between Points A and B here in Windows-World. Yesterday, mine took me off the beaten track, and had me do manually what WU would have done for me automatically. Sigh again.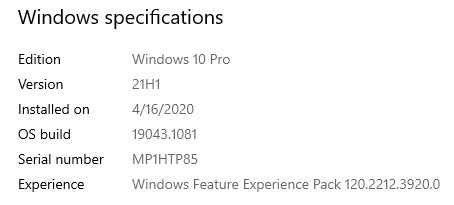 I did get here eventually, but not via the most direct route.
One More Thing…
I used DISM to install the KB5004393 update on the Release Preview PC (Lenovo ThinkPad X380). Thus it doesn't show up in WU Update History (unlike the screencap at the head of this story, which came from the Surface Pro 3). Indeed, I had to go into Programs and Features and use "View installed updates" to find it instead. When you do things manually, reporting changes, too. A word of warning, by way of factual observation.