Here's a nice little addition that's popped up in the Dev Channel version of Task Manager. If you visit its Settings page, you will see a "Default Start Page" pull-down menu there. This makes it easy to change Dev Channel Task Manager default view. My preference is Details, as shown here: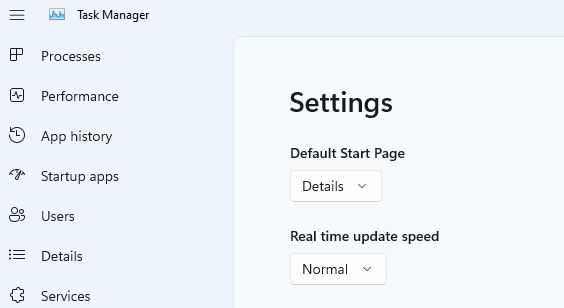 Because it's my go-to view, I set "Details" as the default in Task Manager.
Why Change Dev Channel Task Manager Default View?
For convenience, mostly. It's not a huge deal in terms of added functionality. But anything that saves a mouse click is helpful, when it comes to getting down to work, eh? In general, MS seems to be moving to a move open, less cluttered layout for Task Manager in the Dev Channel version. It takes a little getting used to, but I like it.
My eyeballs are still better trained to make sense of the old-fashioned Task Manager that's still visible in Windows 10 and other Windows 11 versions (for me that mostly means production version, Build 22000.778). The contrasting yellow shades for data cells are still more recognizable to me.
But, as with all things Windows, changes spur us on to learn and appreciate new things. That's how I'm going to play the evolution of Task Manager. We'll probably have side-by-side versions for Windows 10 and 11 for some time anyway, what with Windows 10 EOL not until October 2025.
But Wait, There's More…
Turns out you can change the default tab for older Task Manager versions, too. The menu fiddling is a bit different though, as shown in the next screencap: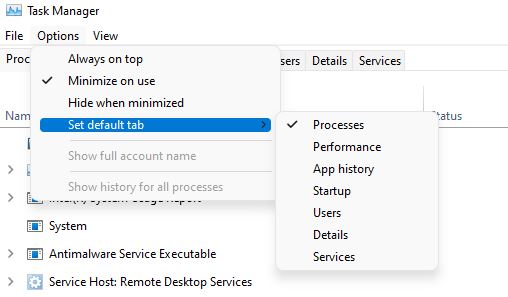 A different sequence of menu picks changes the default view in old Task Manager iterations.
As you can see in the preceding screenshot, click Options → Set default tab → and then any of the items shown (Processes, Performance, App history, Startup, Users, Details, Services) to make your selection. Good stuff!
[Note] Here's a shout-out to Mauro Huculak at Windows Central, whose July 8 story clued me into this new wrinkle on an old favorite Windows tool. Thanks, Mauro!