Poking around on my two old Lenovo laptops today, I noticed several of their vendor-supplied utilities are passe. Indeed, now that Lenovo offers its Vantage UWP caretaker app, many older ThinkVantage tools are obsolete. That's why I assert that older Lenovos need utility clean-up. Lenovo itself will happily let you download and install Vantage on any of its PCs. But it doesn't automatically remove the older stuff when you do. In fact, if you check information pages at Lenovo (URLs below) for the following items, you'll see what I mean:
+ (HT501246) Lenovo Quick Optimizer
+ (PD022501) Lenovo Solution Center
+ (DS105970) Lenovo System Interface Foundation
+ (DS012808) Lenovo System Update
+ Thinkpad Settings Dependency
+ ThinkVantage Fingerprint Software*
Note: all of the preceding items, except for the last one, can be safely uninstalled. Happily, the Lenovo Vantage UWP app supersedes all of them (except for the Fingerprint software, which must be at version 6.0 or higher for Windows 10 users). Likewise, do NOT uninstall Lenovo Service Bridge: it remains necessary to report your Lenovo PC's serial and model number info back to the Lenovo servers.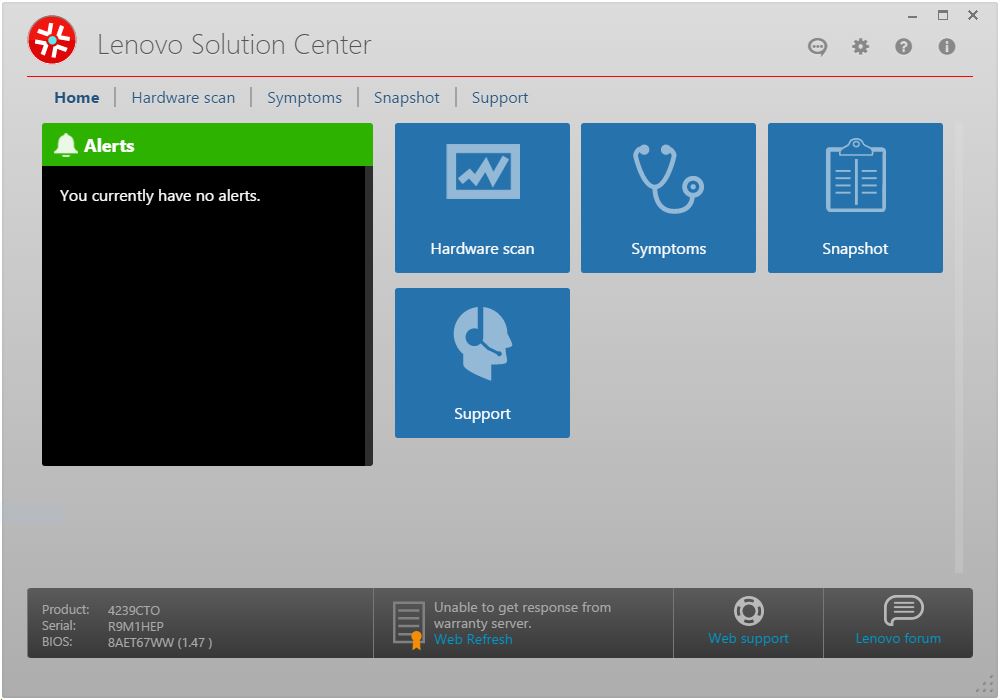 The old-fangled Solution Center and its various brethren are all now longer under developer support. Most of them can go.
[Click image for full-sized view.]
Why Do Older Lenovos Need Utility Clean-up?
Good question! Apparently, Lenovo left it to device owners to root out these older items (except for the Fingerprint Software, which you must keep if you have an older fingerprint reader and want to keep using it). Methinks they should've offered a clean-up utility. Better yet, the Lenovo Vantage installer should look for these passe items and offer to uninstall them as part of its install process. I'll be communicating this back to Lenovo, in hope that they might listen to — and possibly even heed — this plea. We'll see.
What About Newer Lenovos? Do They Need Clean-up, too?
I checked my newer Lenovos, of which I have four: two 2018-vintage X380 Yogas, 1 2018 vintage X1 Extreme, and 1 2019 vintage X390 Yoga. All had the older System Update utility installed, except for the 2019 X390 Yoga. Consequently, I did a bit of clean-up on those newer laptops, too. All's well now, though.