OK then, I'm back in the office after a 10-day hiatus. Natch, after meeting today's writing deadlines, I started updating all 11 of my Windows PCs. Along the way, I found myself caught up in Intel DSA version confusion for that company's Driver & Support Assistant software.
Look at the lead-in screencap. The Intel download page shows version 23.2.17.8 is the latest and greatest version. Yet the details for the download file show it as version 23.1.9.7. And indeed, when you install or repair DSA using the file the lower-numbered version is what's installed. Go figure!
Overcoming Intel DSA Version Confusion
After handling over 100 updates, the Patch Tuesday and incidental WU stuff, I didn't want to find myself troubleshooting a bogus update problem. But that's what I've got going on. Until Intel puts the update for version 23.2.17.8 in the "Latest" position on its download center, there's not much I can do to fix this.
C'mon Intel: please fix this issue so OCD updaters — like yours truly — can get caught up. I've already got 23.1.9.7 (the version that actually appears in the Properties window for the 23.2.17.8 download) installed. I can't catch up until the right file gets posted to the download center.
It's Always Something, Right?
Just goes to show you that here in Windows-World there's always some kind of gotcha lurking to make life more interesting. In some cases, my issues are of my own making. In this particular case, it looks like something odd is up with the Intel download page itself.
Just for grins, I went to an alternate download source. Much to my surprise, that installer shows the correct version number for this file, to wit: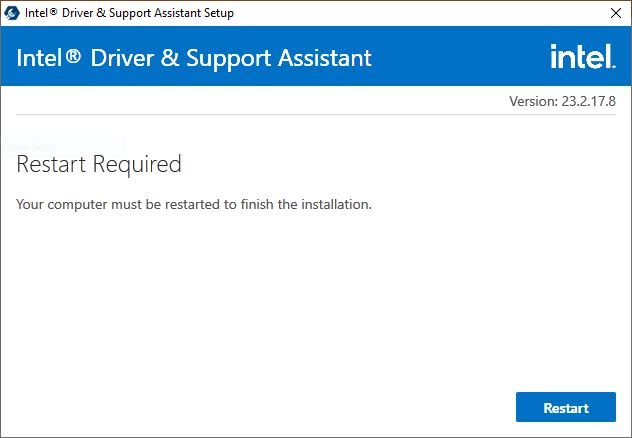 An "alternate download source" DOES have the right file.
Go figure again!
I wish I knew how the other source got the right file, when I couldn't grab it myself directly. As Mr. Churchill said of Russia, that makes this "a riddle, wrapped in a mystery, inside an enigma." I don't know whether to laugh, or cry.