On January 2, 2018, I received email notification from Joe Camp at Microsoft. It informed me that I was named a Windows Insider MVP for 2018. This comes mostly thanks to my good friend and frequent-coauthor, Kari Finn, who nominated me in 2017. But also, thanks to everyone who helped make "Ed Earns Windows Insider MVP January 2018" possible.
This award qualifies me to attend the next annual MVP summit in Redmond. It also gets me a variety of goodies, including free one-year Visual Studio Premium and Office 364 E3 subscriptions. But beyond those much-appreciated perks, I'm both honored and pleased to join the ranks of the Microsoft MVPs. I know well many of them well, and have followed and respected their work since this program kicked off in 1999. I'm especially grateful to MVPs Tom and Deb Shinder, Joli Ballew, Jerry Honeycutt, Shawn Brink, Robert Smit, and my friend and co-author Kari Finn.
Read more about the MVP award and its many distinguished holders on Microsoft's "Most Valuable Professional" page. To learn more about Windows Insider MVPs in particular, and search their ranks, visit Windows Insider MVPs. To my amazement, I see there are over 150 such MVPs for Windows 10, not counting this year's new admits (like me).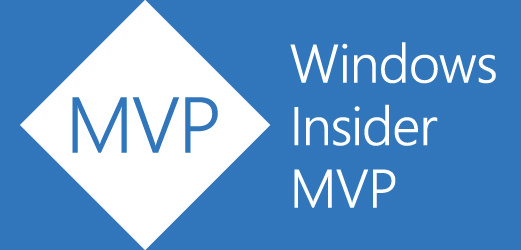 Thanks to the award, I'm allowed to use this logo for blog posts, email, and business cards.
But Wait, There's More…
This same month — January, 2018 — also sees the launch of the website Win10.guru. Created in partnership with my friend and fellow Windows Insider MVP and co-author, Kari Finn, we plan to provide oodles of online content that includes how-to and other stories, editorial opinion pieces, and more. We will focus primarily on the needs of IT Professionals and power users who work with Windows 10 both professionally and seriously. Please check out this new site and, while you're there, share your feedback and requests for coverage with us. Thanks!