Yesterday, I found myself needing to visit some "geographically suspect" websites. Let's just say they're in a country much in the recent news. For added, protection I wanted to use the Windows Sandbox, a runtime environment that creates a temporary VM based on your current running image. Once you close it, all traces of its presence disappear. That's a good thing, when you want no uninvited leftovers later on. Thus, I found myself playing Windows Sandbox games yesterday for the first time on Windows 11.
Steps in Playing Windows Sandbox Games
When I typed Sandbox into one of my Windows test PCs, nothing happened. Indeed, it's been long enough since I set up Sandbox on Windows 10 I'd forgotten some specific preliminaries are needed:
1. Because Windows Sandbox is a kind of virtual machine (VM), virtualization must be enabled.
2. If you don't seek to launch Sandbox inside  another VM, you don't need to worry about nested virtualization. Otherwise, a PowerShell command is needed (see this How-to-Geek article for the specifics).
3. Finally, you have to open "Turn Windows features on or off" and then specifically enable "Windows Sandbox (checkbox checked).
The lead-in graphic shows the bottom portion of the scrolling list inside the "Windows Features" applet in Control Panel. You can get there many ways. I typed "Windows Features" into the Start menu search box and it came right up. The same approach in Settings search works, too.
After the Checkbox, Windows Takes Over
When you click OK after checking the Windows Sandbox checkbox, the Windows installer takes over. It grabs and installs the necessary files to add Sandbox to the target system. At the end of its labors it will tell you "Windows needs to reboot your PC to finish installing the requested changes" (see below). Click the "Restart now" button at lower right.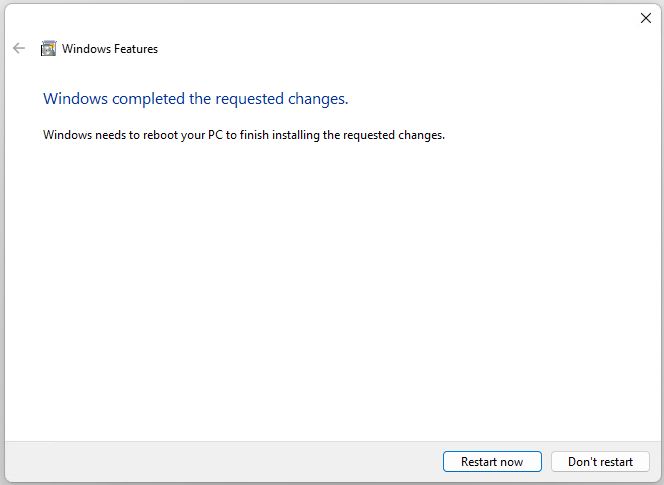 Once it's done, click Restart now to complete the install.
After the PC comes back to the desktop, Sandbox will be ready to use. It certainly did the trick for the various websites I wanted to visit both safely and securely. Here's a snapshot of the resulting sandbox desktop.
I use PatchMyPC to install Chrome and other tools for a more familiar, usable Sandbox. [Click image for full-size view.]