Interesting news from the latest version of MIcrosoft's Windows Lifecycle FAQ (updated July 24, 2021). It says upgrade frequency will change with Windows 11. No more semi-annual "feature updates" that characterized Windows 10 (e.g 20H1, 20H2, 21H1 and 21H2). Instead,  one such update/upgrade happens each year. Most likely, it will hit in October. That's why I say that Windows 11 adopts annual upgrade cadence in this post's title.
When Windows 11 Adopts Annual Upgrade Cadence, What Else?
In the FAQ, we also get information about the servicing timeline for Windows 11 versions. Here's a snapshot of the table clipped straight from the FAQ. It answers this question: "What is the servicing timeline for a version (feature update) of Windows 11?"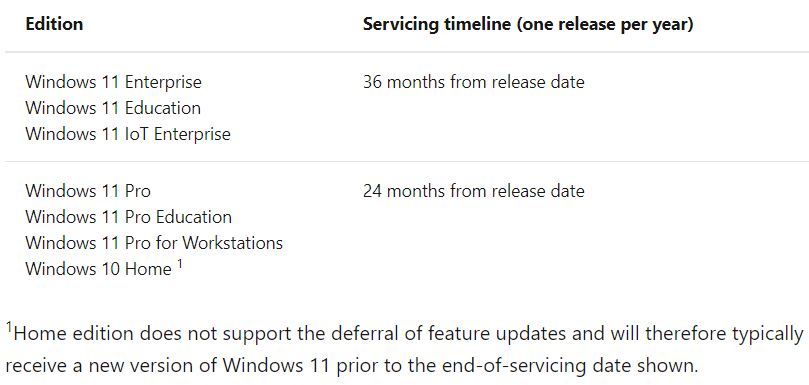 Business, education and IoT versions have a 3 year timeline; other versions get two years.
[Click image for full-sized view.]
What is a servicing timeline anyway?
As I understand it, this is the length of time that Microsoft will provide updates and enhancements for a particular Windows version or release. When that interval expires, PCs must update to a more current — and still-supported — version. Business, education and I0T versions benefit from a longer timeline. Consumer, end-user and SMB focused versions (Windows 11 Pro, Pro Education, Pro for Workstations, and Home) get a shorter timeline with more frequent upgrades expected.
As the footnote says, Windows 10 Home "does not support … deferral of feature updates." Thus, it will usually not hang around long enough to get forcibly  updated when an older version hits its planned obsolescence date.
Very Interesting! This should make things easier for everybody, especially for IT departments in larger organizations. They most adopt an "every other year" upgrade cadence anyway…