Upon reading reports to that effect, I just confirmed that Windows 10 WU offers 22H2 Upgrade on the Boss's Dell OptiPlex 7080 Micro PC. You can see the offer in the preceding graphic. At the same time, you can also see the offer to upgrade to Windows 11 in the right-hand column of the same Window. I reproduce this below. It's got a 10th Gen Intel i7 CPU, so no problem meeting the Windows 11 hardware requirements.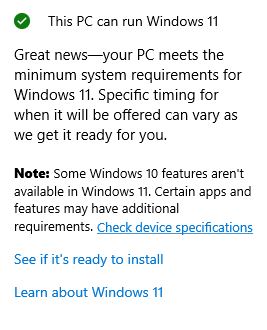 With its 10th-Gen Intel CPU, TPM support, and so forth, this PC is more than ready for Windows 11.
Sold: Windows 10 WU Offers 22H2 Upgrade
The Boss has decided to stick with Windows 10. She's not interested in an OS upgrade, and will wait until she MUST switch. Or perhaps something new will come along in the interim. On a 3-year cadence for major Windows versions with an EOL date for Windows 10 on October 14, 2024, that could get interesting.
It raises the question of whether Windows 10 will retire before the next version comes along, or if that version will precede its planned demise. According to the date calculator, that's still 2 years, 10 months, 1 week and 2 days away (973 days) in the offing. Plenty of time for her to figure out which way she wants to go.
Refresh and Upgrade, or Just Upgrade?
Lots of other users will be pondering the timing of their next upgrade transitions between now and October 14, 2025. Many will decide to refresh their hardware as they transition to a new OS. I can see a kind of "lost generation" for Windows 11 as a result.
It will be quite interesting to see how PC sales look over the next 2-plus years for the same reasons. The trade-off looks very much like: wait for the next Windows version and budget for new PCs versus refresh earlier and upgrade to Windows 11. Could get interesting…