It's been about six weeks now since Windows 7 hit end-of-life (EOL). Yet NetMarketShare still shows it with over 25% on active desktops. Statcounter shows it at over 30%. Why is Win7 Marketshare ~25% or higher? Who's running the old OS? I have my suspicions, and would like to share them.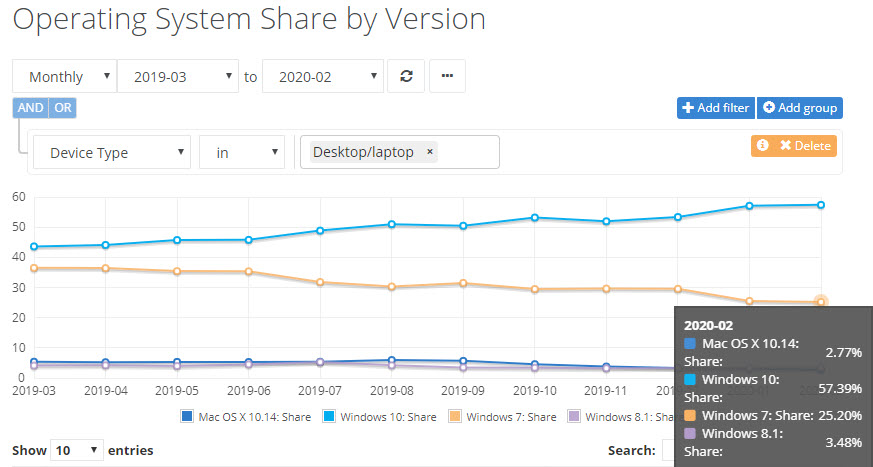 Despite 6 weeks since EOL, around a quarter of all Windows OS users under NetMarketShare's purview at still running Windows 7. Who and why are the questions I want answered.
[Click image for full-sized view.]
Just for the record, the US Government's tracking site — analytics.usa.gov — shows a lower share of 15.4%. (NetMarketShare's exact number is 25.2%, and Statcounter's is 30.57%.) This already suggests that some continuing Windows 7 use occurs on PCs that don't access US Government websites. In turn, this tells me that it's likely that 40% of continuing Windows 7 users are outside the USA, perhaps even outside North America.
If Win7 Marketshare 25%, Who's Using It and Why?
No matter what the real number is, I believe it may be somewhat bigger than any of the numbers already presented. A certain number of Windows 7 systems are situated in kiosks and in embedded situations. These are unlikely to access the Internet. That means they wouldn't show up in any of the monitoring sites already cited. Thus, it's important to understand that the numbers are probably at least 1-2% low. In fact, they may be as much as 5% low, depending on how many "quiet" Windows 7 PCs are out there.
User Classes Include Individuals, SMBs and Governments
As far as visible numbers go, my guess is that they're split pretty evenly between SMB users and private individuals. My gut feeling is that enterprises have mostly (90% or better) migrated already. A a significant number of government (local, state, and federal/country) agencies or departments are paying for extended security updates, too. Essentially, they're buying time while they get onto the migration path. News stories suggest the US Government is much less involved in this program than they were during the XP to Windows 7 transition. Then, the US DoD bought as many as 2 million seats worth of such support. That said, I've seen news that report the German Government is spending ~800K Euros for 33,000 seats' worth of Windows 7 extended support. Worldwide, it's likely that the number of paid seats (which MS does not publicly disclose) is in the 1-2 million range.
For private individuals, numerous factors explain die-hard Windows 7 use. These include laziness, inertia, and unwillingness or inability to spend on upgrades. Also, there could be a perceived lack of need to upgrade. (This might reflect an imperfect understanding of growing levels of security threats, or "if it ain't broke, don't fix it." at work.) SMBs share all these reasons, too. They may also be bound by continued use of legacy applications (especially custom- or in-house-built code). These often won't or can't be upgraded to Windows 10 affordably or easily.
How Long Will Win7 Usage Stay High?
I am surprised that this number remains so large. I wonder how long it will take for that number to erode further. I'm especially keen to see when it might go below the 10% range. This generally indicates a mostly moribund Windows OS (look at Windows 8.1's relatively tiny 3.48% figure). It should be an interesting phenomenon to watch. Thus, I'll report back in on this from time to time (probably at 3-6 month intervals).