I've seen it before, and I'll probably see it again. I just updated my production desktop to the latest GeForce driver, and it threw a BSOD. It's one of the "mystery codes," too: SYSTEM_EXCEPTION_THREAD_NOT_HANDLED. But when I say that the latest GeForce 442.59 may cause BSOD I already know what's causing it. There's a bug in the driver installer (not the driver) that causes a crash when it finishes the install. Thus, the driver itself is properly installed and working, as this GeForce snippet clearly shows: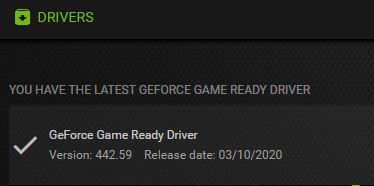 This snippet from GeForce Experience shows the latest driver version — 442.59 — is properly installed and working. Also shows yesterday's date.
If Latest GeForce 442.59 May Cause BSOD, So What?
Yeah, it's kind of disturbing — upsetting, even — to see your PC go down in flames with a BSOD. But as BSOD's go, this one's fairly benign. It would've bothered me a lot more if I hadn't seen a run of these same BSODs in 2018 and 2019, right at the end of the GeForce driver install. Thus, I post this blog as a public service to warn others who may be keeping their GeForce drivers up-to-date. Before you do the install, close all open applications and save your work. If you're seriously concerned, make an image backup just before running the driver install. But since the net result is a new and working driver, I'm inclined simply to say "Here they go again." And of course, to let my readers know that they too may fall prey to this gotcha.
OTOH, you could decide to skip this update and wait and see if the next one fails to provoke a BSOD. I'm happy to keep plugging away at this stuff, and will update this blog when the next driver comes out. If it throws another BSOD I'll let you know. If it doesn't, ditto. Stay tuned!
[Note added 3/19/2020, afternoon] I just installed version 442.74 on my production PC. It got all the way through the install without a glitch, and asked me if I wanted to reboot. I was otherwise engaged so I did not. Just rebooted a minute or two ago, and everything concluded successfully. One can hope it's because the installer issue — whatever it may have been — is fixed, or no longer an issue. Done!