For years now, I've been a huge fan of Nir Sofer's software tools. Along the way, I've often used his NetBIOS Scanner (NetBScanner). It shows me which IP addresses Windows PCs occupy. Two weeks ago, I noticed PatchMyPC supports a tool named Advanced IP Scanner. I've now tried it out. I can say I totally find Advanced IP Scanner worth using. It appears as this story's lead graphic, in fact.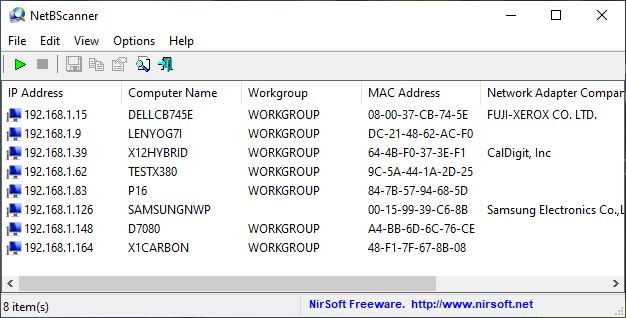 This NetBScanner output shows only Windows and other devices with NetBIOS names; Advanced IP Scanner (top) shows EVERYTHING IP.
If Advanced IP Scanner Worth Using, What About NetBScanner?
Once I started using the former, I immediately saw the limitations of the latter. Simply put, NetBScanner shows only 8 entries; Advanced IP scanner shows 18. It even includes devices that lack NetBIOS names but participate in the LAN (e.g. my ASUS WAP, my thermostats, and my TV). Better still, it shows the IP addresses that some of my PCs (laptops, mostly) use for Wi-Fi and GbE, along with which one is live at present and which one is unused (e.g. X380).
There's more: as I was troubleshooting my PING and RDP issues earlier this week, I learned to make use of the right-click tools it offers for devices whose IP addresses it shows. You can access its maker's own Radmin utility to jump directly into its version of remote administration of anything showing.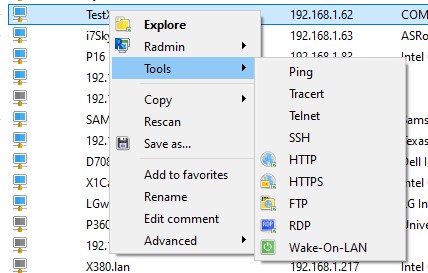 To me, though, the right-click Tools menu is both interesting and helpful. Shown above this paragraph, it lets you run a variety of commands in a cmd.exe window against the highlighted item. I used it to run PING tests point-to-point on my LAN and eventually got everything working. It also turns out to be a handy way to launch RDP as well.
Remember: Cools Tools Rule
I've come to like this free, informative and easy-to-use utility enough to add it to my top tier Windows tools collection. I call these "Cool Tools." For me, they are essential items in my administration and troubleshooting toolbox. If you try Advanced IP Scanner out, I predict you'll want to add it to your lineup, too.