Since June 28, Windows 11 has been available  to Insider Preview program participants. Those willing to devote a VM or PC to running the new OS may do so. Needless to say, I've got it running on multiple PCs (2 Dev Channel, 1 Beta Channel). As I've been getting to know the latest OS version, I noticed that Windows 11 keeps strange component store cleanup behavior. Let me explain…
What Windows 11 Keeps Strange Component Store Cleanup Behavior Means
Check out the lead-in graphic from this story. It comes from PowerShell v7.1.4. It shows results after running a specific command –namely DISM /online /cleanup-image /analyzecomponentstore under a special set of conditions. One: the target PC has recently had a Cumulative Update (CU) installed. Two: the target PC has not been rebooted since that install occurred.
If you look at the image, you'll see there's a progress line that ends at 10.0% (above). A second progress line shows 44.2% complete on its way to the 100% mark. Believe it or not, Windows 10 also shows this very behavior. I'd kind of hoped that MS would have noticed, and made sure that Windows 11 didn't manifest the same. As the screencap shows, apparently not.
If you reboot the PC after installing the CU, this doesn't happen. Either way, component store cleanup proceeds as it should and gets rid of no-longer-needed backups and disabled features.  Here's what the whole thing looks like on my Lenovo X380 Yoga Beta Channel test machine: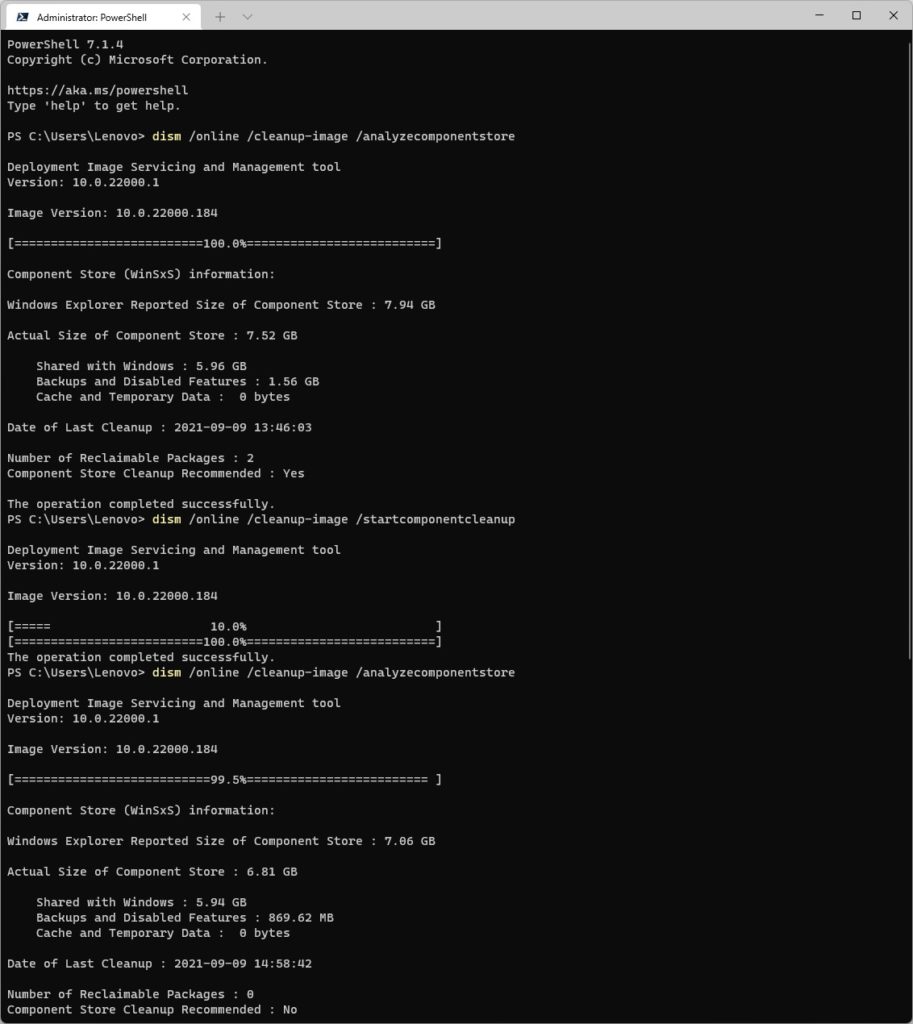 [Click image for full-sized view.]
Notice that the initial "analyze" shows 7.94 GB/7.52 GB as the reported and actual size of the component store before cleanup. After cleanup (bottom of screencap) those numbers drop to 7.06 GB/6.81 GB for a savings of 0.88 GB/ 0.71 GB from the 2 reclaimable packages cleaned up during the process.
It's Only a "Flesh Wound"
To recall the famous gag line from the Monty Python and the Holy Grail, with all apologies due to the artistes, this little oddity is neither terribly worrisome nor significant. That said, I do find it interesting that at least some of the eccentricities present in Windows 10 persist into Windows 11 as well.
Please post a comment here, or send me an email through my contact form if you know of any other Windows 10 oddities that carry over into Windows 11. Inquiring minds want to know, mine most definitely included.