I'd hoped that the initial Dev Channel build for Windows 11 would show up this week. I'm glad it  did, but it's something of a doozy. When I say it's a substantial first 2022 Dev Channel Build 22526 I means it's big, and it takes a while to download and install. Let me explain…
What Substantial First 2022 Dev Channel Build 22526 Means
First off, I noticed that it took longer than usual to download and install 22526. That means around 15 minutes to download, and another half an hour to install. By contrast, the preceding 22523 Build downloaded in 5 minutes or less, and took about 15 minutes to install. I had the same experience on both test machines, and also had to wait through another 2 minutes or so for OOB experience during the first boot into the OS.
Running WizTree on my two Dev Channel PCs (a Lenovo X12 Hybrid, and aThinkpad X380 Yoga) I see that the size of the Windows folder is 3.2 GB larger for 22526 than Windows.old for 22523. This, too, is kind of unusual. Normally, size doesn't vary more than 200 MB one way or the other between adjacent versions.
What's New in 22526?
According to yesterday's Windows Insider blog post "Announcing Windows 11 Insider Preview Build 22526," quite a bit is new. The dev team is "experimenting with showing ALT + TAB as windowed instead of full screen for some Insiders." And whoop! I see that on the X12. Here's what that looks like, courtesy of SnagIt 2022: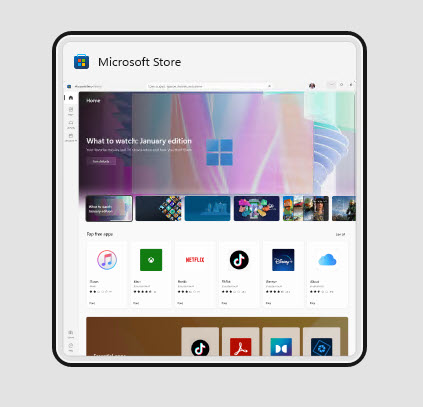 Instead of filling the whole display, ALT+TAB shows up in windowed mode as shown on PCs lucky enough to get this update in 22526.
This is the first time in my personal experience to get selected for a new feature when a limited rollout or A/B test is announced. I'm jazzed.
Other new items in 22526 include:
Support for wideband speed using Apple AirPods to improve voice call quality
Credential Guard now enabled by default on Domain-joined Windows 11 Enterprise (E3 and E5) licensed PCs
File Explorer will index more file locations to make native file search faster and more efficient
Don't know where the size bump comes into play among all this stuff, but it's definitely noticeable.
2022 Insider Previews Off to Interesting Start
I'm tickled to see new stuff showing up so soon. I'm even more tickled to be included in the select few who get to see new features under test. It should be interesting to see how things develop, as we work our way deeper into the New Year. Stay tuned: I'll keep you posted.