Here's something interesting. Thanks to eagle-eyed software maker and reporter Sergey Tkachenko, I've just learned you can grab the new Windows 11 version of the Photos app and install it on Windows 10. On 11, it comes from the Windows Store; if you're left out, a sideload brings Window 10 new Photos app. See the WinAero story Windows 11 Photos app now supports Windows 10 for pointers and such.
How Sideload Brings Windows 10 New Photos App
If you examine the lead-in graphic closely you'll see the About info for the Windows 11 version of Photos (lower left). Once you download and install that version, the Store offers a renamed version of its predecessor as "Photos Legacy" (right, with about information at bottom). I installed that also to keep my existing (and enormous) trove of meta-data and image info available. Just for grins, I superimposed winver.exe at right center to show it was all indeed running on Windows 10. Good stuff!
One thing: you will visit the mirror of the Microsoft Store downloads to grab the Windows 11 version of Photos for Windows 10. When you do, scroll down to the first Microsoft.Windows.Photos entry that ends with the extension .msixbundle. That's the one you need to actually perform the install.
It will ask you if you want to update Microsoft Photos? Click the Update button.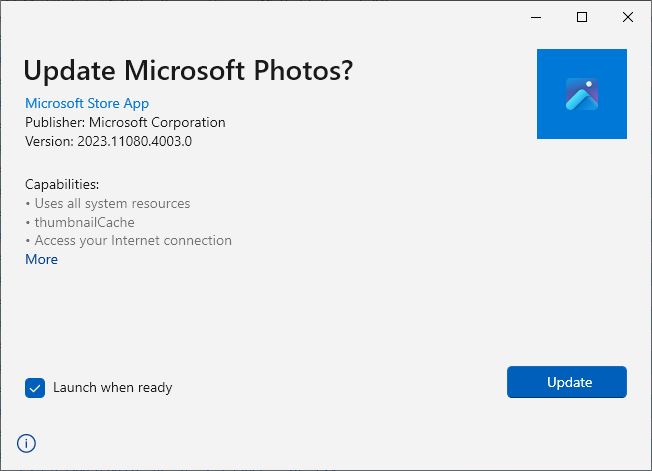 Then it will go through the update process and actually install the Windows 11 version on your Windows 10 PC. As soon as it's done the Store will offer you the Photos Legacy app as well.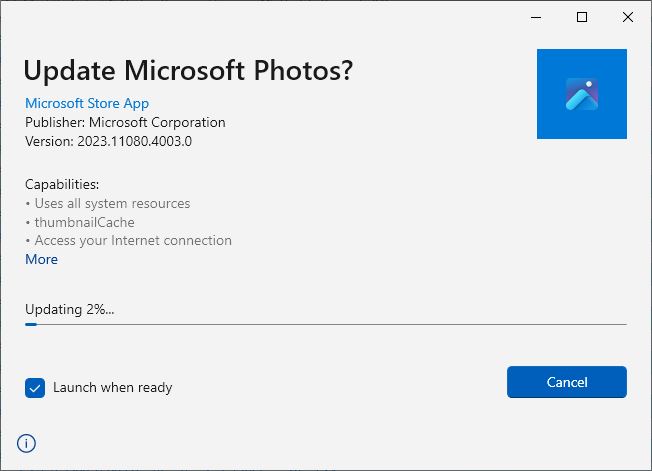 So now, I have both the old version (Photos Legacy) and the new version (Photos) running on my Windows 10 PC. As I watch what happens with this new addition to my app stable, I'll report further if I see anything noteworthy. So far, it all seems pretty routine.