For some, this may be good news. For others, not so much. MS announced a raft of "Deprecated features for Windows Client" on November 7. Among them is one of my personal pet peeves. That's right November Windows 11 Deprecation includes tips app amidst its number, along the Computer Browser, WebDAV, and Remote Mailslots, atop a list of older items. See the afore-linked MS Learn item for all the details.
If November Windows 11 Deprecation Includes Tips, Then What?
First of all deprecated doesn't exactly mean "dead." Instead, it means something more like "while it's on its way to oblivion, you'd best learn to live without it."  Microsoft positions this status as follows:
The features in this article are no longer being actively developed, and might be removed in a future update. Some features have been replaced with other features or functionality and some are now available from other sources.
That's OK with me, because I was never a huge fan of the Tips app. I seldom, if ever, turned to it explicitly. And when MS fired it in my direction thanks to defaults or settings I didn't (yet) know about, I would invariably turn them off when they made themselves known.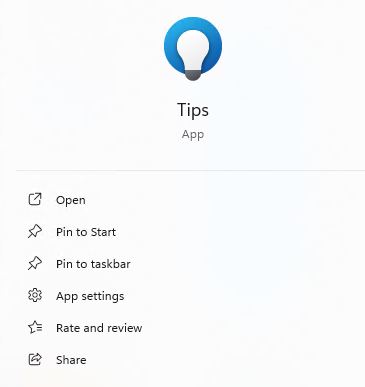 Tips app info from the Windows 11 Start Menu.
But that's just me. For all I know, there are plenty of people left in the lurch with the immanent departure of Tips from the scene. All I can say is; I'm glad not to be a member of that no-doubt disconsolate group.
For Me, Opting In Beats Opting Out
In general I'm of the opinion that if MS wants to make information services available to users, they should introduce and explain them. Then, after demonstrating their costs and benefits, they should give interested users an opportunity to opt in. Those who want to use those services can do so, but those who don't want them need do nothing to keep them at bay.
Indeed, there's a whole class of emerging Windows built-ins called System Components (see my October 27 post for deets) for which the same treatment makes good sense (Tips is among them, in case you wondered). Ditto for things like the new Windows Backup app, now included in ALL Windows 11 distros, over the vehement and vociferous objections of Enterprise and Education license holders.
Gosh! If MS were to adopt an opt-in philosophy for all stuff that's not strictly necessary for Windows 11 to function properly, it would make life easier for the admins who handle images and their deployment and the people who use them. Something to consider, eh? Hope somebody high up at MS takes this to heart…