For a long time, Windows desktop access to the Resilient File System (aka ReFS) was limited and iffy. Introduced in Windows Server 2012, facilities to create ReFS volumes were dropped from Windows 10 1709. (Exceptions: Enterprise and Pro for Workstation editions). In Windows 11, AFAICT, it's been a thing only in Enterprise Insider Preview builds — until now. With this week's Update Preview, 22H2 Moment4 brings back ReFS. The lead-in screencap comes from one of my Windows 11 Pro test PCs, in fact. Check it out!
How 22H2 Moment4 Brings Back ReFS
It does so in the context of the Dev Home utility in Windows 11. This app provides scaffolding to support a range of developer functions in the OS. These include widgets, access to GitHub projects, and — you guessed it — the ability to create a "Dev Drive" which can be formatted using ReFS. That's what you see in the lead-in screencap.
One of the major options in Dev Home lets users create this so-called Dev Drive. It looks like this: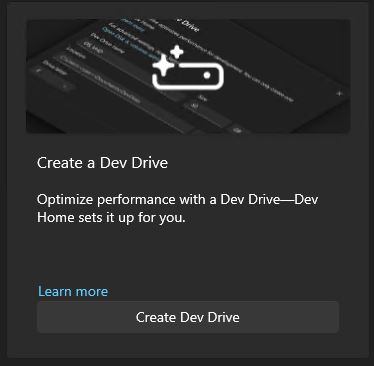 When you click the button, it puts you in into Settings → System → Storage → Disks & volumes. If you click Create Dev Drive again there, you'll find various options. You can create a new VHD, resize an existing volume (to reclaim space for a new one) or possibly allocate unused disk space (only if available). In my testing, I elected to resize my existing volume boot/system volume.
MS Claims a Speed Advantage…
In its description of dev drives, MS claims to "improve performance for key developer workloads" (see this blog post for a chart of comparisons with NTFS). In my own experience, it was pretty remarkable. It took less than 2 seconds to copy a Windows 11 ISO (~4GB in size) from an external TB4 NVMe SSD to the new ReFS volume. Mighty quick!
I'm going to have to play around with this to really understand how it works and peforms, but so far it's an interesting toy. And it's also nice to see ReFS make a comeback into the broader reaches of Windows 11. Try it out for yourself!