On April 4, an End of Support notice surfaced in  the MIcrosoft Message Center. Its initial text appears in the lead-in graphic for this story above. A quick summary of its contents is that various .NET versions facing EoS soon. The version numbers involved are 4.5.2, 4.6 and 4.6.1 runtime. MS recommends that affected PCs update to .NET Framework 4.6.2 before April 26, 2022. No updates or security patches will be issued for those versions after that date.
If Various .NET Versions Facing EoS Soon, Then What?
This is an issue only if certain applications still in use employ those older .NET versions, and they themselves haven't yet been upgraded to use a newer one. As I look at the relevant folder in my production  Windows 10 desktop — namely:
C:\Windows\Microsoft.NET\Framework
these are the folders that I see

If I understand how this works correctly, all versions lower than 4.0 reflect older .NET versions currently installed on this PC. Thus by reading the version numbers for those folders you can see that 5 such versions are installed, from v1.0.3705 through v3.5.
On the other hand, if you display properties for any .dll file in the V4.0.30319 folder, you'll see what version of .NET is currently present, to wit: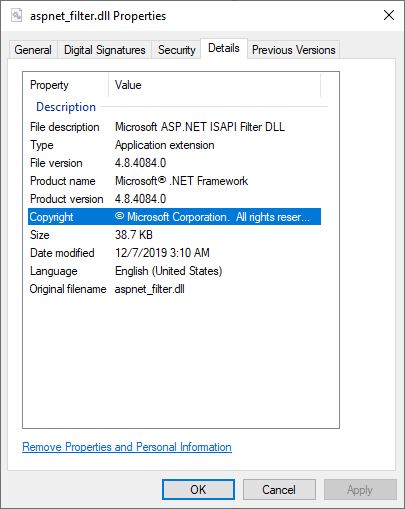 The Product Version line reads 4.8.4084.0, and tells me that I've got the latest and greatest .NET version installed here, as well as the earlier versions already mentioned.
What To Do About Impending Retirements?
If you're using no software that depends on earlier .NET versions, you need do nothing. OTOH, if some of your software does depend on them you must decide if you'll keep using it and risk possible security exposure, or find an alternative that isn't subject to such risk. For my part, I recommend the latter approach, unless there's no other choice. And in that case, the safest thing to do would be to run such software in the MIcrosoft Sandbox as a matter of prudent security policy. 'Nuff said!