Starting with version v0.64.0, released on November 2, the PowerToys collection added File Locksmith to its mix.The tool's own built-in description is sparse. It reads: File Locksmith is "…[a] Windows shell extension to find out which processes are using the selected files and directories." Doesn't sound like much but can be handy. Indeed, I learned that PowerToys File Locksmith works well this weekend. Let me explain…
Why Say: PowerToys File Locksmith Works Well?
As I tried to work through an update process for a desktop tool, I got an error message showing three instances of svchost.exe were impeding installation. Remember: File Locksmith is a "shell extension." In this case, that means you can right click "stuck" files in File Explorer and then choose the "Who's using this file?" menu option that appears.
This brings File Locksmith into the picture, wherefrom you can choose an "End Task" button for associated files that show up in the listing. Furthermore, you can see detail about each running process, so you can even match up process IDs inside Task Manager to make sure you "end task" only when and where you should, and leave other stuff alone.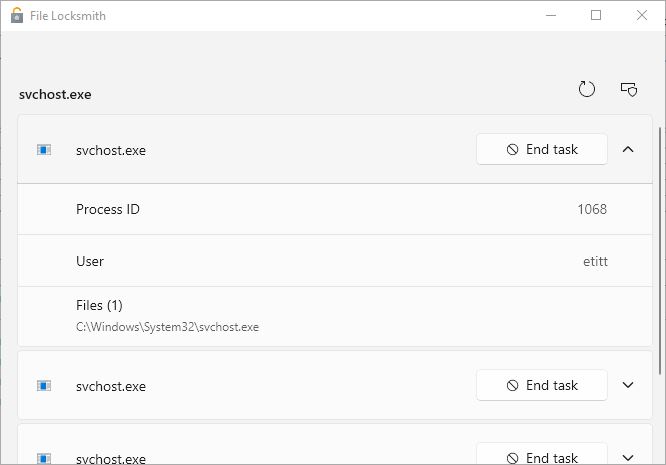 The offending items were various DLLs. They run within svchost processes so multiple programs can share access to them.
[Click image for full-sized view.]
This made my job pretty easy. All I had to do was end the offending tasks so the installation could complete. It did so pretty much immeditately after I told it to try again. And it ran to successful conclusion.
Warning: Because ending tasks for shared DLLS can leave certain important facilities inaccessible after such a move, I also restarted Windows after the update was done. You know: just to be on the safe side…
But gosh, File Locksmith made this sometimes vexing and onerous task easy and straightforward. I have to laugh about this too, though. Here's why: earlier versions of PowerToys itself were prone to experiencing install delays owing to running items. These included dll host processes that required manual closing in Task Manager. Thus, it's glaringly obvious how the developers figured out such a tool could be helpful — at least, IMHO.
But it's here, it works, and has already proved useful in helping me update a utility included in my Startup items, and generally running in the Windows background. If it worked for me, it should do likewise for you. Enjoy!