MS offers free downloads of ready-to-run Eval Windows 11 Development VMs (virtual machines). They incorporate a copy of Windows 11 Enterprise, Visual Studio 2022 edition, Windows Subsystem for Linux (WSL), and Windows Terminal. They're ready to run in developer mode, right "out of the box" as 'twere.
MS makes them available, free, for the following hypervisors:
VMWare
Hyper-V
VirftualBox
Parallels
Just for grins I downloaded the Hyper-V incarnation, and spent an enjoyable hour getting it installed and running yesterday, along with some exploration and investigation. The lead-in graphic shows the head of the download page for all this stuff.
Grab Ready-to-Run Eval Windows 11 Development VMs
I was able to bring up the VM simply by opening it in Hyper-V and using the "default switch" for the networking option. It's just that easy to get it up and going. No kidding. But…
As I explored the new runtime environment I did find some limitations. Turns out the default install in Hyper-V does not resolve TPM issues. There's a whole raft of "Generation 2 VM Security Issues" about which I had been blissfully unaware.
I'm going to need to work through those issues so I can try again. Why? Because if I want to keep the VM around as more than a transitory eval, I have to be able to upgrade to 22H2 (the download is 22H1). And here's what the Windows 11 Installation Assistant currently has to say about that: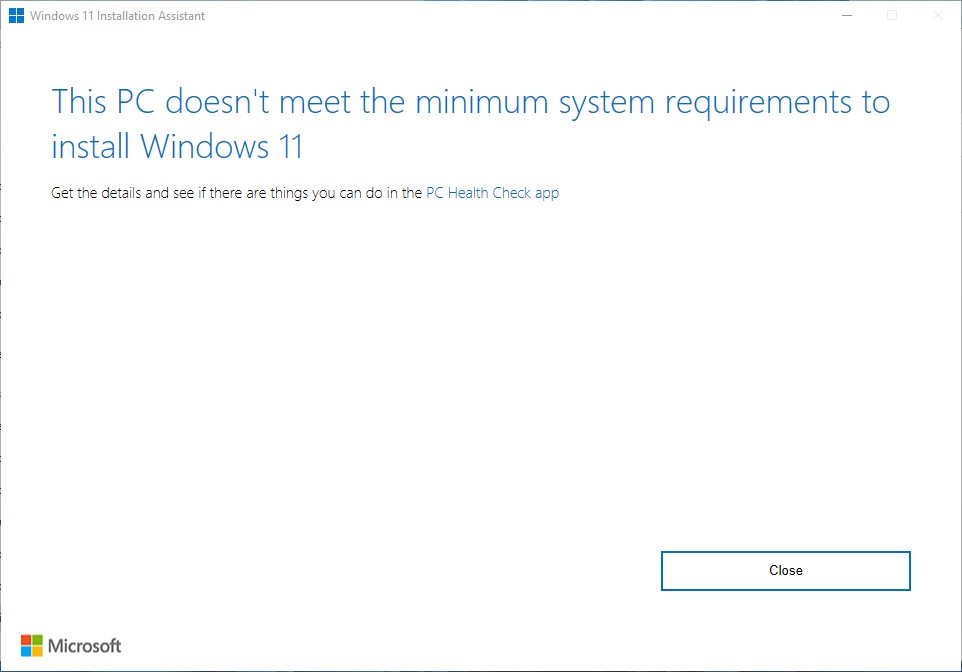 Upon running the PC Health Check on that VM, I'm informed that no TPM is detected. No TPM, no upgrade. This can be fixed: I see numerous recipes to make that happen. I'll try them soon.
More Fun Than…
In the meantime, I'm having a gas running VMs on the P16 Mobile Workstation (with 128GB RAM, a 24-core i9 12th Gen CPU, and so forth). Honestly and for the first time, ever, I can't tell any diff between running a native OS and a VM. It's awe-inspiring. I'll keep digging in, and reporting more, but if you too wish to play, visit the download page. It's a pure joy to mess around with!