This morning, I learned about a DCH graphics driver from Intel, which adds Windows 11 support. This is the discretionary new Intel 30.0.100.9805 graphics driver. It's shown in the driver properties for the UHD 620 integrated graphics on my Lenovo ThinkPad X380 Yoga in the lead-in graphic. This driver installed quickly and easily on that test PC, albeit with a self-inflicted gotcha. Let me explain…
Why Say: Discretionary New Intel 30.0.100.9805 Graphics Driver?
Normally, graphics and other key Intel drivers come either through Windows Update or from the Intel Driver & Support Assistant (DSA). This time, things are a little different. I imagine it's because this driver specifically targets Windows 11 (though it also works on Windows 10) that Intel hasn't yet targeted it within DSA. Instead one must visit the Intel Graphics – Windows DCH Drivers page. There one must select the 30.0.100.9805 (Latest) version, and download either an .exe or .zip based installer. Here's what it looks like online: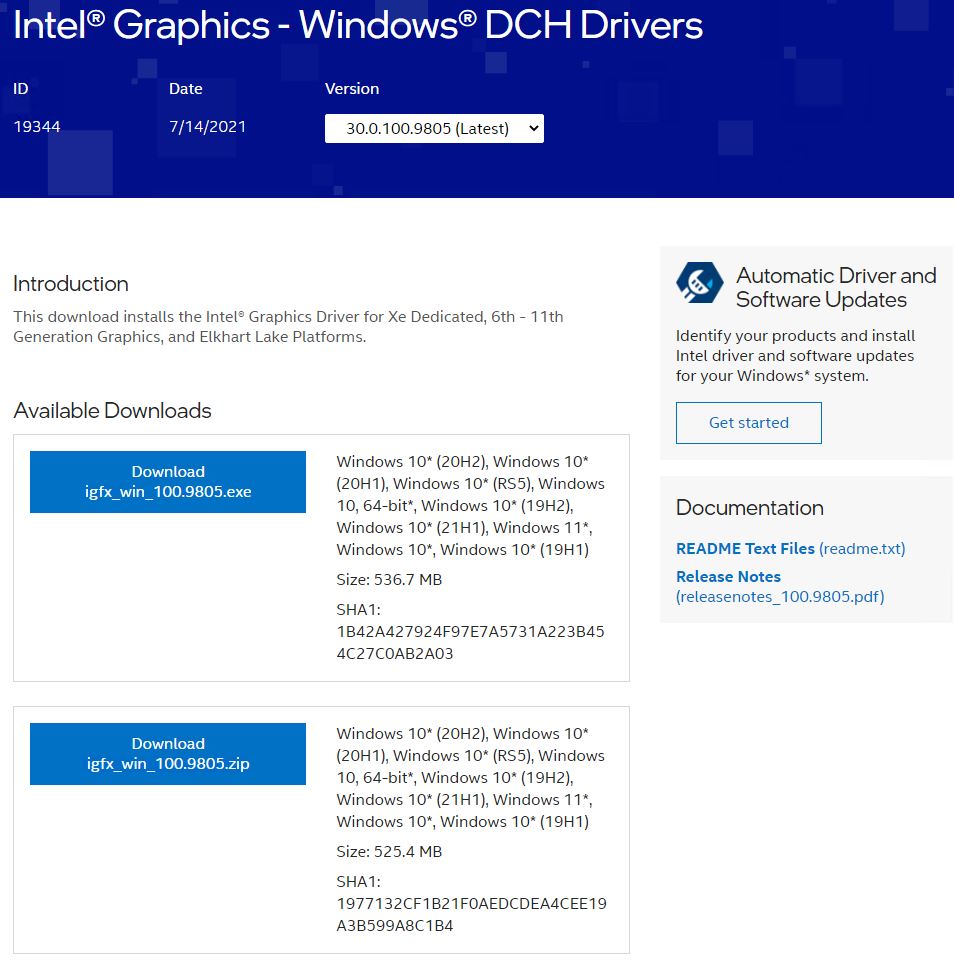 The download page offers .exe and .zip options.
[Click on image for full-sized view.]
Who Should Grab This Update?
All Intel CPUs 6th generation (Skylake) or newer are on Intel's "covered platform list" for this upgrade. It works on Windows 10 releases 1809 through 21H1, and on Windows 11. Laptop and tablet users should be aware that OEMs sometimes offer customized Intel graphics drivers through their own update channels. By switching to this Intel update, you forgo those customizations. Some contortions — such as uninstalling the Intel drivers and software — may be required if you want to switch back to OEM drivers later on.
The gotcha I encountered in installing this driver is mostly self-inflicted, but worth reporting anyway. I started the install process through an RDP session from my production desktop. About half-way into the install, the process hung and didn't advance further. When I ended the RDP session, and logged into the X380 Yoga locally, it picked back up and ran to completion. Sometimes, driver install MUST run locally to work properly. Apparently, this Intel driver requires a local session to run all the way through. By comparison, I did use DSA to update the PC's LAN and Bluetooth drivers via RDP just before starting the display adapter update for the UHD 620 without issues.
And indeed, that's the way things went today, here in Windows-World. Cheers!