As I was perusing my usual Windows 10 news sources yesterday, I noticed that version 8 of the excellent Macrium Reflect backup tool made its debut. My excitement deflated quickly, as I figured out that Macrium Reflect 8 drops commercial-only versions.
Fortunately, I have a 4-license package of Macrium Reflect Home. This I upgraded to version 8 for a "mere" US$75.72 (US$69 plus tax). This got me to v8 on those PCs that run a commercial version. That means my production desktop, my road/travelling PC, and my wife's and son's PCs. But what about Macrium 8 Free?

This terse statement about MR V8 Free popped up on TenForums yesterday (Thanks, Kari!).
Macrium Reflect 8 Drops Commercial-only Versions: Free Comes Later
A mainstay in the Windows 10 toolbox is the no-cost version of Macrium Reflect (MR). Known as Reflect Free it offers about 85% of the functionality of the commercial version. I've used it for 6-plus years on my test PCs and have yet to find a situation the free version couldn't handle, backup and restore wise. I bought a 4-license pack to do my bit to support a company whose products I like and endorse.
Word on the street is that the v8 Free version is coming, but won't be out until the end of the summer (see preceding graphic). That item was dated May 20. Doing that calendar math puts the date on or around August 18. For the time being, users have no choice but to wait for the v8 version of Macrium Reflect Free to makes its appearance.
What's New in Reflect Home v8?
The software's maker — Paramount Software UK Ltd — has helpfully put together such a list in handy graphic form. I copy it here verbatim from their "Reflect 8" web page: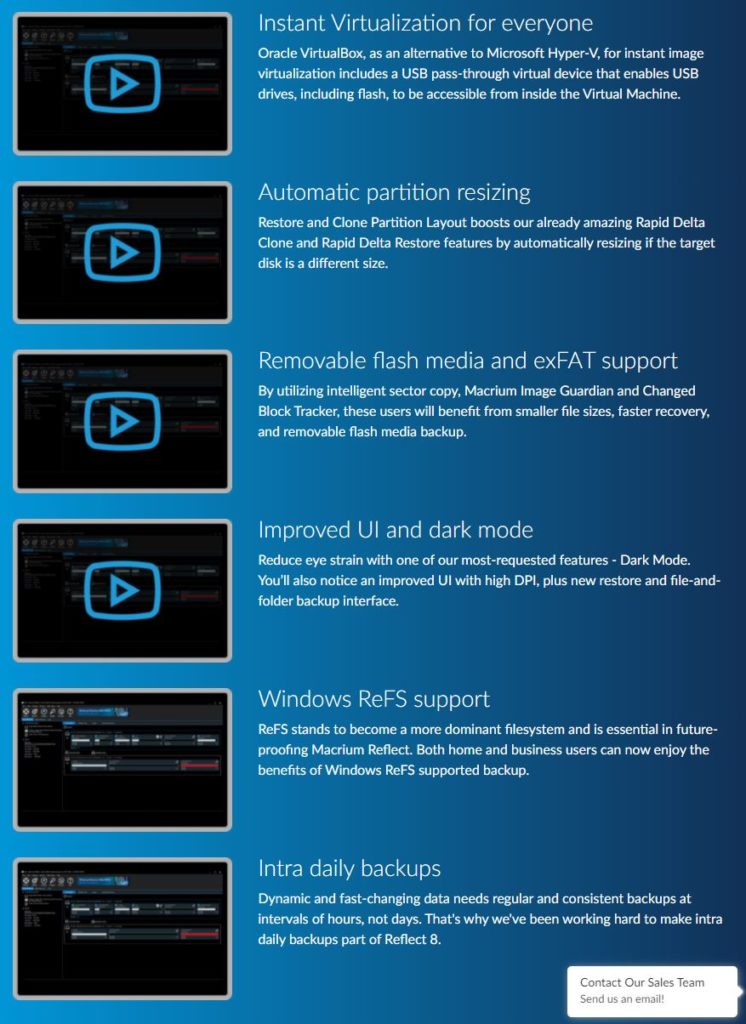 Some of these features won't be included in the Free version when it appears, but many/most of them will.
[Click image for full-sized view.]
Of these features, intra daily backups (repeated, frequent copies of specific data files) are quite interesting plus well-informed and -intentioned. I need to spend some time with the new version to really understand what it can do. Alas, that must wait for the press of paying work to abate a bit (I'm kinda busy these days, which has its good and bad points).