For those Windows 10 users with Adobe Flash still installed, the Microsoft Update Catalog has the KB457786 Flash Killer download available. If this means you, click the preceding link. Next, pick the version that matches your current Windows install. Then, click its Download button for the corresponding Microsoft Standalone Updater (MSU) file. The individual download window for the x64 version appears in this story's lead graphic.
Note: For whatever odd reason, I had to right-click the download link in the window shown above. Upon selecting the file link near the bottom of that window, I had to right-click and select "Open link in new window" to actually get the file to download. YMMV.
If KB4577586 Flash Killer Download Available, Then What?
Once downloaded to your PC, run the MSU file that you just grabbed. The Windows Update Standalone Installer will ask you if you want to install the KB4577586 update. Click the "Yes" button to proceed.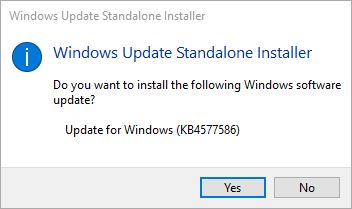 Next you'll see an "… updates are being installed" window appear, with progress bar. It took about 15 seconds to install on my i7 Skylake (i7-6700, 32GB RAM, 512 GB Samsung 950 SSD) PC.
If Install Fails, No Worries
I already knew that the Flash Player was gone, gone, gone from this PC. And sure enough, a peek into Update History under the Other Updates heading shows the following info:

A quick search on the 0x8024001e error string shows the most likely cause — in this case, for sure — is a missing DLL file associated with the Adobe Flash Player. Why is it missing? Because it's already been uninstalled on this PC. Thus, there's no cause for concern about this error. In fact, even if you don't need this update it's safe to run it anyway.
Those who already know Adobe Flash Player is absent on their PCs need not download or run this update. But if you're not sure, it's OK to do so just to make sure it's gone. Your call!
Le roi est mort, vive le roi!
The foregoing phrase translates as "The king is dead, long live the king!" Seems like an appropriate epithet for Adobe Flash Player which has been around since FutureWave SmartSketch made its debut in 1993. Acquired by Macromedia in 1996, in turn by Adobe in 2005, Flash has been around since the earliest days of the WWW.
Now, of course, more modern technologies built into HTML 5 have made Flash obsolete. It's now passed its End-of-Life date as of 12/31/2020. As of February 2021, all major browsers now block Flash and have no player capability. It really is over. Amazing! Many thought it would never die, and few are sorry to see it go…