This morning, I read about a new Intel graphics driver over at Neowin. With 6  or more PCs likely to need an update, I starting using the Intel Driver & Support Assistant (DSA) to check things out. On one of my two Lenovo ThinkPad X380 Yoga PCs (8th gen Intel CPUs, 16 GB RAM, 1 TB SSD), the spinning balls for the system scan kept spinning … and spinning … and spinning … In looking for a way to fix things, I turned to an Intel Support note. That led me indirectly to learn that an Intel DSA repair lets scan complete.
How Intel DSA Repair Lets Scan Complete
I followed Intel's advice to uninstall, then reinstall, the DSA app. Along the way, the installer offered a "Repair Installation" option( via Revo Uninstaller). "Hmmmm," I thought to myself "Why not try this option first and see if it helps?" I did, after which the system informed me a reboot was needed to complete the process.
So I did that, too. And when the PC rebooted the next time around, the DSA system scan completed nearly instantly. After watching it grind for nearly two minutes earlier this morning, that came as a great relief. As irony would have it, DSA did NOT find new graphics drivers for me to install on that PC, either. Here's what it told me instead: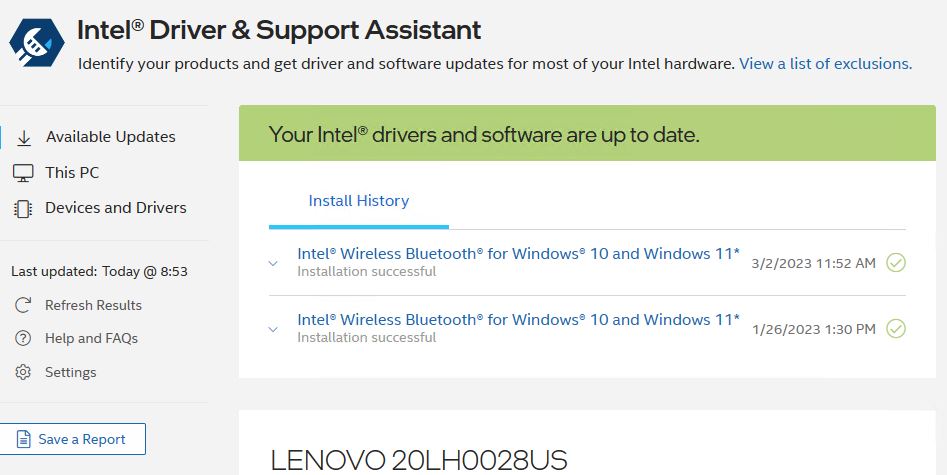 Despite Neowin's alert, DSA finds no need for a new graphics driver.
The Installer Will Show "Repair" When Available
This did remind me that many application installers include a "Repair installation" option as part of the installer's bag of tricks. This time, repair was in the bag — and thankfully, it worked. Problem solved. And the old "remove & replace" operation proves its value yet again as a strategy for fixing application and update issues, but with an interesting twist. Cheers!
Impatient? Direct Driver Link for 31.0.101.2121
If you don't want to wait for Intel to bring you these drivers via DSA (it's now early afternoon on release day and they're still not showing up there), you can grab them from the Intel Drivers & Software downloads page: Intel 6th-10th Gen Processor Graphics — Windows. As for me and my curiosity, I'm content to wait for now…