I kind of knew this already. You probably did, too. But it bears repeating: the general rule for Insider builds is "you can go up by changing your Insider preferences; you can only go down with a clean install." Simply put, a Canary escape requires clean install.
Thus, this recent Insider email from MS states:
You can only switch to the Dev Channel or other Insider channels that are receiving builds with lower build numbers by doing a clean installation of Windows 11.
Say What? Canary Escape Requires Clean Install
But wait! There's more. Active Insiders will want to check their email inboxes. In their latest (March 13) email missive "Introducing Canary…" you'll also find a one-time use code and link through which you can claim a free USB drive. I reproduce the mail-to notification from that web page as the lead-in graphic for this story, in fact. Indeed, I've sent my response in to claim my USB drive…
Alas, as you can see in the web page text, delivery time is 6-8 weeks. Does anybody else find this amusing? I keep a whole mini-tray of such drives around for install and repair activities. That's mostly because Macrium requires users to agree that a rescue disk may only be used on the PC from whence it came. I see 11 on that tray right now (see below). I wonder if the one from MS will fit there, too?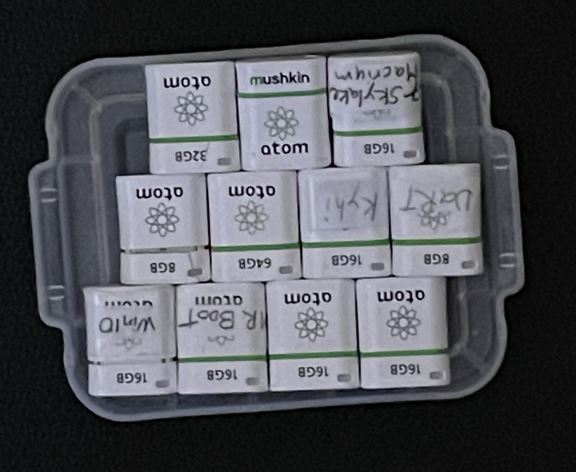 Count 'em: 11. There MAY be room for the MS item here, too (depending on size).
Those little flash USBs are Mushkin Atom drives. They're not the fastest, but they're compact and eminently usable. As you can see, I keep a lot of them around… And any clean installs I need to do (and, in fact, have already done on my temporarily discommoded X12 Hybrid) will be done and dusted long before that new USB flash drive arrives via mail.
Shout-out to Neowin: Thanks to Taras Buria of Neowin for his March 15 story that brought this to my attention (and got me to read the Insider email all the way to the end… ;-).