With the 2012 vintage Lenovo X220 Tablet going into a well-earned retirement, I need a replacement Dev Channel test machine. I've decided to call upon my 2019 vintage Lenovo X390 Yoga to fill that role. As the X390 Yoga replaces X220 Tablet, I'm sure I'll be learning a lot more about this machine, even though it's been around for 16 months or so.
More About X390 Yoga Replaces X220 Tablet
Originally, I purchased this laptop to replace my wife's aging Ivy Bridge mini-ITX PC. I ended up going for a Dell Optiplex 7080 Micro instead. Since I bought the machine in December 2019, I've been using it to test the current GA version of Windows 10. Now, it'll switch over to following the latest bleeding-edge Dev Channel releases.
Here's how that PC is equipped:
8th Generation (Whiskey Lake) i7-8565U CPU
16 GB RAM (2×8 GB, soldered, DDR4 2400 MHz)
Intel UHD Graphics 620
SSDPEKKF512G8L Intel 1TB NVMe SSD
Intel Wireless-AC 9560 160Mhz Wi-Fi adapter
13.3″ FHD (1920×1080) touchscreen
Fingerprint reader, Windows Hello camera
2xUSB 3.1 Gen 1; 1xUSB-C; 1xUSB-C/Thunderbolt 3
MicroSD card slot
ThinkPad Pen Pro stylus included
Dimensions: 12.2″ x 8.6″ x 0.63″ / 310.4 x 219 x 15.95 (mm)
Weight: 2.85 lbs (1.29 kg)
Lenovo's port map graphic that follows shows where everything is, on the unit's right and left sides. It's been a treat to work with and use.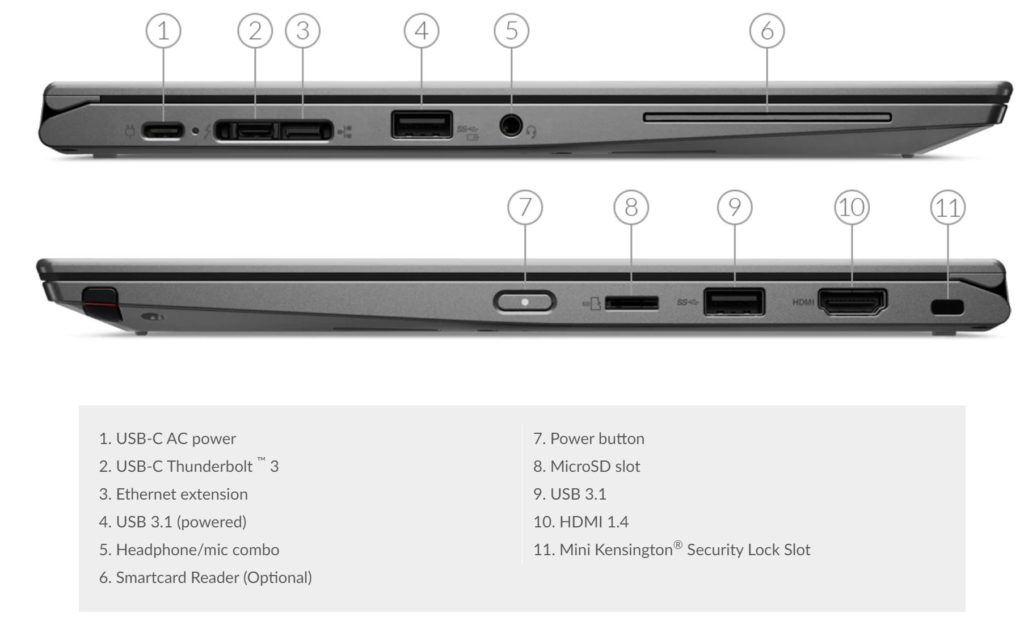 Backup and Restore
Any test machine has to have backup/restore capability. That's because there's always the chance that updates, upgrades, or fiddling about will cause trouble. That's what beta testing is about. I'm also prone to occasional "what-ifs" that have landed my PCs in trouble. Thus, it pays to be prepared.
I've got a speedy SATA-III SSD (Sabrent enclosure, Samsung EVO 500 nominal/465 GB actual) plugged into the USB-A port for backup. It takes about 6.5 minutes to do a complete image backup of the boot/system (and only current) drive. I'll need to pop for a microSD card for this machine, now that's it's moving into a more active test role. I've also got a Macrium Reflect bootable Rescue Media USB Flash device ready to run restore as and when I need it.
How I Work with Test Machines
I don't work directly on my test PCs, unless there's some activity or utility that won't work remotely. Frankly, I use RDP from my primary desktop for most interactions. That's because I can do everything from my comfortable desk chair working on 2 Dell 2717 monitors. Almost everything works well that way. And if I do need to access the X390, I need only rotate my office chair to the left to access the unit. It's situated atop a rolling file cabinet right next to my desktop case.
As time goes by, I'll be writing about this nifty little laptop more and more in dealing with Windows 10 Dev Channel releases and related topics. Keep an eye out, and you'll soon see evidence to support this prediction. Cheers!