Yesterday morning, I tried to remote into my Lenovo ThinkPad X12 Hybrid tablet. No go. I got the familiar error "Remote Desktop can't find the computer…" Interestingly, when I went to restart that PC, nothing happened. Eventually I had to disconnect all cables, then hold the power button down for a full 60 seconds to force it to reboot. Then I remembered: I hadn't touched the machine since the 25967 upgrade hit on Tuesday. That means the X12 Upgrade quit halfway through the process and didn't come back up after the reboot.
If the X12 Upgrade Quit Halfway, Then What?
Poking around on the Lenovo website, I found an evocative forum post. It was entitled "Laptop suddenly shuts down, won't turn on." It confirmed something odd was up, and prevented the PC from restarting. And indeed, my approach (disconnecting all cables, holding down the power button for 60 seconds) is just what the forum rep recommended to the poster, too.
When all else fails, this is one way to get a Lenovo PC to restart normally. And sure enough, once the PC did get far enough along to tell me what it was doing, it showed the spinning circle and progress that goes along with finishing up an upgrade or update install.
Just for grins, I opened up Reliability Monitor on the X12. I found a shutdown error staring me in the face. The detail reads: "The previous system shutdown at 5:55:00 PM on 10/10/2023 was unexpected." Last Tuesday, at the end of the working day, just when I wouldn't notice that the X12 failed to come back from the pending reboot during the update process. Go figure!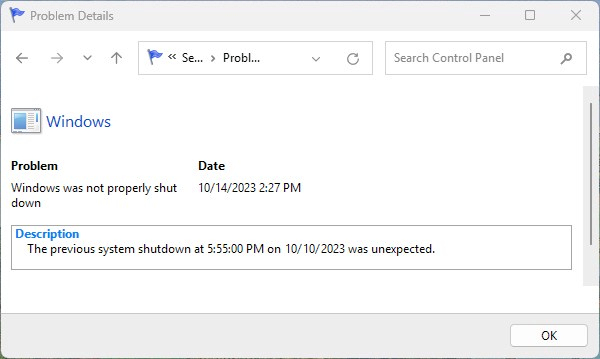 There's proof that the PC shutdown when it shouldn't have.
Speculating on Causes…
This device is attached to a CalDigit TS4 hub for power, GbE, video and storage. I'm wondering if something about that kind of complex USB-C/Thunderbolt 4 connection might not complicate boot-up. OTOH, I've upgraded plenty of times before on the same overall rig without difficulty. That's what keeps things interesting, here in Windows-World.