This morning, I checked Windows Update on the 2019 vintage X390 Yoga (i7 Kaby Lake 8th Gen) as is my daily practice. Lo and Behold! There it *finally* was: WU extends X390 21H1 offer. I immediately downloaded and installed that update. What you see for this story's lead-in graphic is the "Restart required" status that popped up less than 2 minutes later.
When WU Extends X390 21H1 Offer, I Take It!
After clicking said button, it took another 30 seconds or so to get to the actual restart. After reboot, it took less than 20 seconds to get to the start screen. I was able to RDP into the X390 with no delays to produce a 21H1 Winver screen (clipped to cut off email address).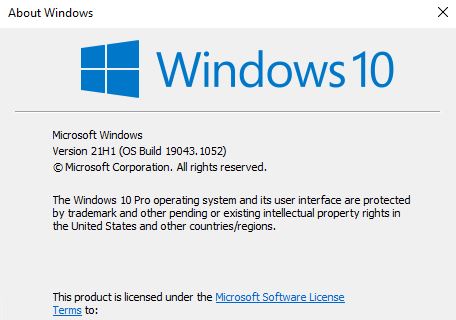 No sooner is the offer extended, than it's taken up. I've been waiting for this, in fact…
What I didn't see after this update was additional updates to bring the 21H1 image up-to-date. That tells me WU is still keeping 2004-20H2-21H1 in pretty tight synchronization. In other words, I didn't need specifically targeted 21H1 updates, because the necessary bits were already present. They'd been applied to 20H2 and stayed in effect across the  image transition into 21H1. Good stuff!
Just for grins, I ran DISM … /startcomponentcleanup on the 21H1 image. It took a while to get anywhere, and left two persistent, supposedly reclaimable packages behind. I've seen this before, and expected a re-run to leave them untouched. It did, and quickly, too.
Another One Bites the Dust
At this point I've only got one more machine that hasn't been offered the 21H1 update yet. Should be interesting to see how much longer that takes. Stay tuned: I'll let you know when that happens.