With the latest Build of Windows 11, 22000.132, several new app versions have appeared. This includes a new version of the Snipping Tool. In fact, Windows 11 gets Snipping Tool Makeover that combines this older program with the newer Snip & Sketch. What's interesting about this update is that MS has advised Snipping Tool users to switch to Snip & Sketch for some time now. Take a look at its home screen in Windows 10, where it says "Snipping Tool is moving…"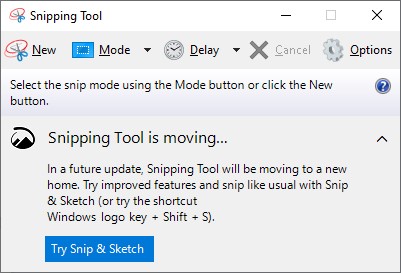 The Windows 10 version still warns users it's "moving to a new home," and exhorts them to "Try Snip & Sketch."
If Windows 11 Gets Snipping Tool Makeover, Now What?
The new combined tool calls itself Snipping Tool. But it works more like Snip & Sketch than it works like the Windows 10 Snipping Tool. It still does the job, though. I can use it without any learning curve, because I've long switched between both Snipping Tool and Snip & Sketch, as well as TechSmith's SnagIt tool. All have their unique strengths, which I'll play to as I need them.
The change is a little odd though, along the lines of "one step forward, one step back, one step sideways." Long-time Windows developer and gadfly Rafael Rivera got this right in an August 12 tweet on this subject, to wit: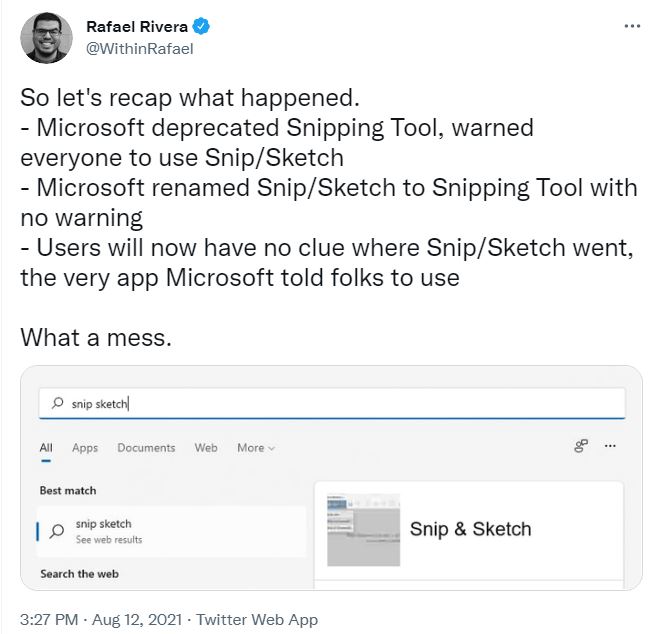 Rivera's comments are spot-on for Windows users who may not catch this change of course.
Doesn't life sometimes get interesting, here in Windows-World? I'm pretty sure most people will figure this out, but it can be perplexing to keep up with the changes sometimes. Count on me to keep you informed, please, as I also try to see the humorous side of this wonderful game.