OK, then. I learned something new and interesting yesterday. Thanks to Mary Jo Foley at ZDNet, I now know that October 5 really started at 4 PM Eastern (US) the day before. That meant I was able to try out two new facilities late in the day, as Microsoft got the Windows 11 GA follies underway in earnest. Let me explain…
What Does Windows 11 GA Follies Underway Mean?
GA stands for "General Availability" and represents the timeline entry for an OS release at which point anyone can access it. If they have a legit Windows 10 license they can upgrade to it. They can also now access numerous Windows 11 specific tools through the Download Windows 11 page, including:
The Windows 11 Installation Assistant (for upgrading the machine you're using)
The Windows 11 Media Creation Tool (for creating a bootable UFD or DVD)
Download Windows 11 Disk Image (ISO) to obtain a mountable multi-image ISO for planned installation or image customization
I've already done all of those things, though I haven't yet used the UFD I built, or put the downloaded ISO to work. Here's a brief recitation of what happened.
Item 1: Installation Assistant
My first GA upgrade target was my trusty Lenovo ThinkPad X1 Extreme laptop (8th-gen Intel CPU, 16 GB RAM, 1 TB NVMe SSD, TPM 2.0 and Secure Boot enabled). I'd already made sure it met Windows 11 requirements, but I did hit a snag during installation.
I had Start10 installed on this PC. And when the Installation Assistant got about 80% through with the installation part, it stopped and told me I had to uninstall Start10 before it could proceed. Because uninstalling Start10 itself requires a restart, I knew this meant I had to clear this out and then start over. So that's what I did.
To my surprise, the Installation Assistant kept the install files so I didn't have to download them again. This short-circuited the process by a good five minutes. But the second try at install took quite a while to complete — nearly 40 minutes by my clock. My advice to readers: if you're running a start menu replacement program, uninstall it before you begin the upgrade process. In the long run it will save on time and aggravation.
Item 2: MCT Revisited
The new version of the MCT is named MediaCreationToolW11.exe. At 9,532KB in size (as reported in Explorer) it's a pretty quick download. I like it that MS is labeling MCTs with the version of Windows they'll grab for you. Makes them much easier to tell apart. In fact, I usually label them when I download them anyway for that very purpose. Glad to see MS beating me to the punch here.
Just for grins I went through the UFD drill with an older 8 GB UFD I had sitting around. The download part took less than a minute to complete (I have a fast Internet connection, fortunately). Building the on-media image took a little bit longer: a bit under five minutes on a 2016 vintage Patriot Blitz 8GB UFD device. It got renamed to ESD-UDB during the build process (which reflects MS use of the compressed version of WIM for speedier download/smaller disk footprint). Total disk space consumed: 4.16 GB.
Item 3: ISO Download
Because I'm a huge Ventoy fan (and regular user) this method gets me images for all kinds of uses (install, repair, troubleshooting and so forth). That's why I don't mess around with bootable UFD devices anymore. MS advertises, and DISM confirms, that this is a multi-part ISO image (7 parts, in fact, as shown in the following screencap):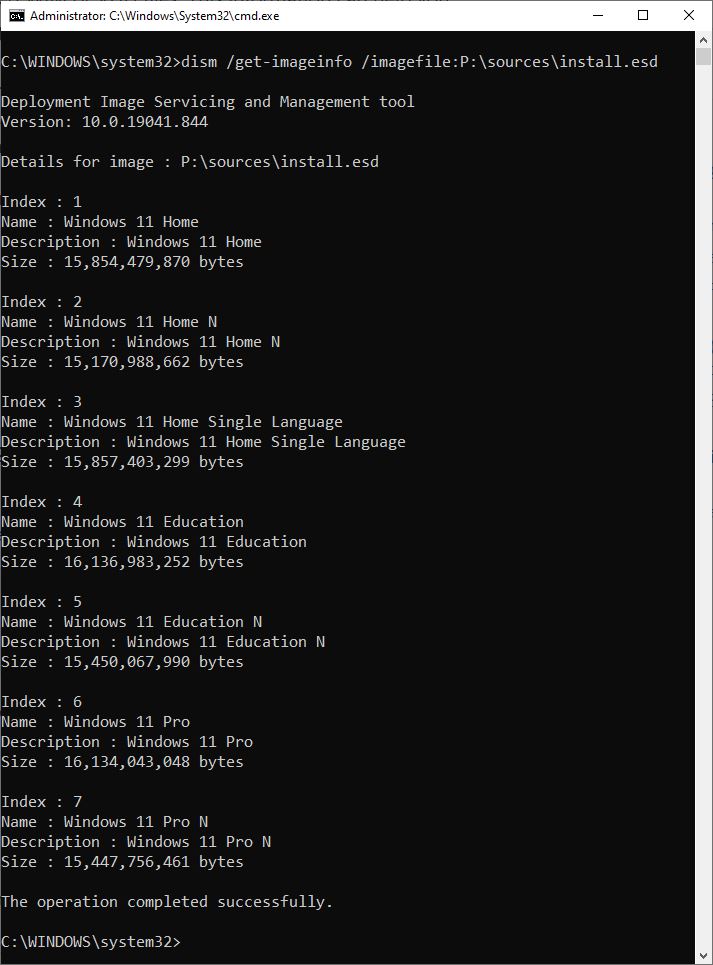 7 total images, each with its own index, in the official Win11 ISO
[Click image for full-sized view.]
So Far, So Good. What's Next?
I have now force-upgraded the X1 Extreme (and then installed Start 11, which is supposed to get a major update in a couple of days). I plan to update my wife's Dell 7080 Micro with its 11th-gen CPU today or tomorrow. I'm going to wait on WU for other Windows 11 ready machines to see when the get "the offer." Stay tuned: I'll keep you posted as the rollout proceeds. So far, though, it's been pretty easy and straightforward. Except for the Start 10 surprise in fact, it's been smooth as glass.