My Lenovo X380 Yoga constantly presents me with the same problem after each Feature Upgrade. And because that PC is hooked into the Fast ring for Insider Previews, that means it happens once every week or two. Instead of a working Synaptics WBDI-SGX fingerprint reader. I get a yellow exclamation point in Device Manager for that item. Further detail indicates it was unable to load the device driver properly. After long and repeated experience with this error, I've learned that the following "click sequence" will set things right. First, I right-click into Update drivers → Browse my computer for drivers → Let me pick from a list of available drivers… Only one driver shows up as a result, and it's the very one I need. That why I say when driver MIA after upgrade try Pick from a list… Here's what that looks like: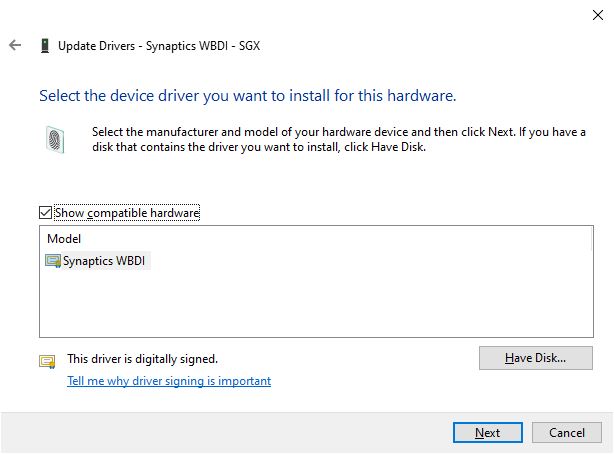 Click the desired entry to highlight, then click Next to install that driver. When there's only one entry, there's only one possible item to choose, too.
[Click image for full-sized view.]
If When Driver MIA After Upgrade Try Pick from a list… Doesn't work
Of course, it's not always this easy to fix an MIA driver following a feature upgrade. That's why it's a good idea to use DISM to export your current (presumably working) set of Windows 10 drivers before a major upgrade. My good friend and Win10.Guru partner Kari the Finn explains all this in a TenForums tutorial. It's entitled DISM — Add or Remove Drivers on an Offline Image, and addresses the important stuff in Step Two: Get drivers: Export. That might do the trick, as long as you (or Windows) can recognize the right sub-folder to search for the good stuff.
On a Lenovo laptop, you can also grab drivers from their Support pages . Shoot! Their Vantage app may be able to find and install the missing item for you, using its System Update function. Or you can search for the driver manually. This takes me to a Fingerprint reader page, where I see the Synaptics WBDI device that I need.

If all else fails, I can always grab the driver from the Lenovo download pages.
[Click image for full-sized view.]