If only I knew why this happens, I'd be happier living with this occasional gotcha. Alas, it seems that some Windows Update items reset the TCP port associated with my Samsung monochrome laser printer (NWP2850). When that happens, the printer shows up offline. Bizarrely, Printers and Devices reports the device as offline but offers no further help. I've learned to visit the right-click item named "Printer properties" when that happens. Resetting its IP port usually brings the printer back online. That's what I offer up here, as an offline Samsung NWP2850 misconfiguration fix. Here's what that properties window looks like with its Ports tab on display: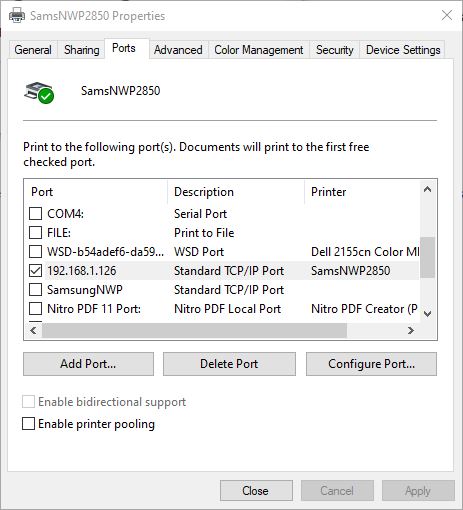 From time to time a port named "SamsungNWP" with no IP address shows up checked here. This screencap shows the correct assignment.
What Is the Offline Samsung NWP2850 Misconfiguration Fix?
First, I have to rigure out the IP address assigned to my Samsung printer. NWP stands for "networked printer" BTW, so I have to scan my local network to find its current IP address assignment. For that purpose, I use NirSoft's excellent NetBScanner. It produces a listing that tells me just what I need to know, as shown here:

The Samsung printer shows up about half-way down the list at IP address 192.168.1.126. That's why I checked the corresponding box in the previous window.
[Click item for full-sized view.]
It's nice to run into a simple network problem that's easy to fix in Windows 10. If only, if only, I didn't have to run into it so often! But that's the way things go sometimes. I've learned to live with it.