Here's an interesting tidbit from the MS Hardware Dev Center, posted February 18. It comes from Senior Program Manager Kevin Tremblay who focuses on Windows OneCore (OS kernel, methinks) and "device enablement" (LinkedIn Profile). Going forward, device driver updates for Windows 10 will always show up in Windows Update as "Optional updates." Because future Win10 updates all optional now, that means users must initiate such updates manually. In fact, working through the process means:
1. Clicking Optional Updates
2. Checking boxes next to one or more available device driver updates
3. Clicking a "Download and install" button on the Optional updates page to initiate (and approve) those activities.
Here's what a sample Drive updates window looks like, showing the checkboxes and the "Download and install" button. I've already made use of this feature myself on Fast Ring Insider Preview test machines, and can confirm it works as it's supposed to from personal experience.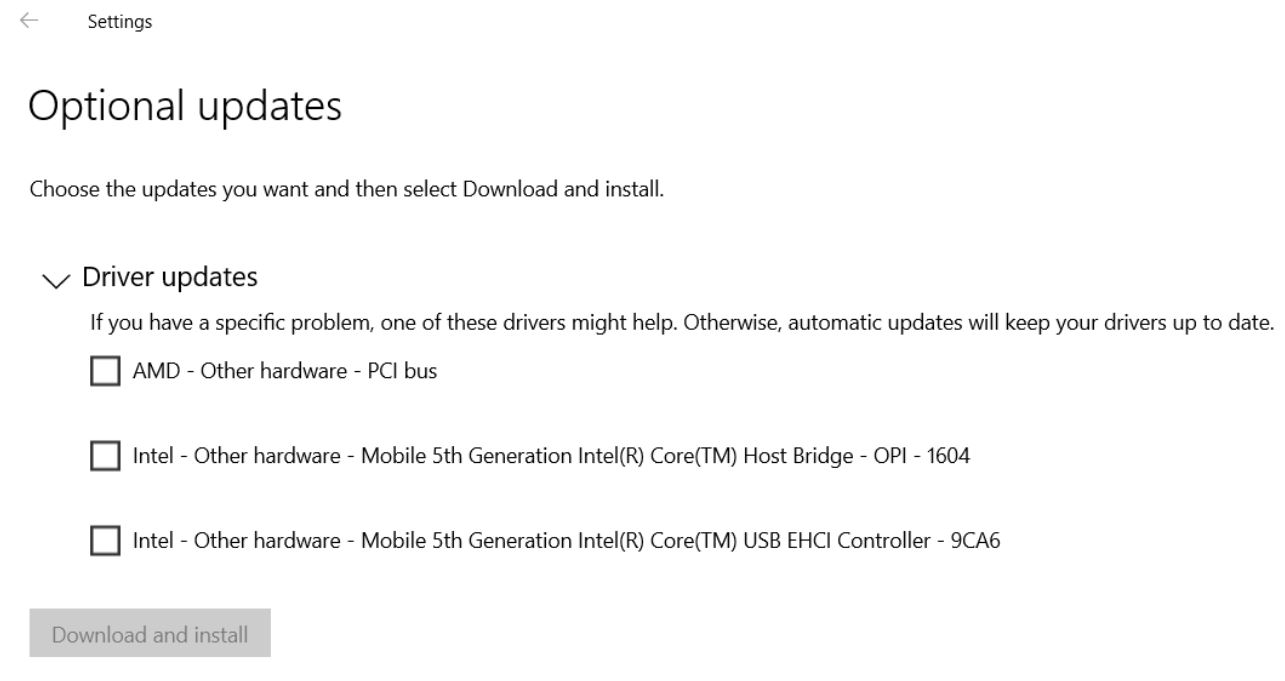 Going forward, Win10 users will have to acquiese and participate actively, before WU will install device drivers on their PCs.
[Click image for full-sized view.]
If Future Win10 Driver Updates All Optional, Then What?
Previous Win10 feature updates have come in for qvetching, criticism, and occasional cries of anguish because of updates installed automatically. They could show up, without prior warning for users. This denies them the opportunity to refuse, or to take preventive measures (a backup image to restore should something go sideways, for example). As far as device drivers go, this is now off the table. Good on Microsoft, for making this change. Because drivers are a perennial and predictable source for post-update instability, this new approach provides a way to avoid trouble, rather than having to clean up a post-update mess. But wait? Isn't this the way things worked in Windows 7 and 8.x versions. What was once old, is now new again, it seems. A welcome bit of news nevertheless!