Thanks to a rare weekend post from Martin Brinkmann at ghacks.net, I can share some big news. I now know MS Learning has a date for official retirement of its-big name 4LA (four-letter acronym) certs. This comes from an MS Learning Blog post and Alex Payne, GM of Global Technical Learning. Alas, these old stalwarts are all headed for retirement. Yes, that's right: MS announces impending final MCSA MCSE MCSD retirements for June 30, 2020. Although I knew it was coming, it still has a big impact. In fact, rampant popularity of the MCSA and MCSE propelled me into the certification game. (I remember: this happened between 1994 and 1997). And 1997, of course, is when Exam Cram launched at Coriolis Press. (Pearson took it over in 2002, where it remains a pretty big deal today).
Here's a quote straight from the blog post:
Since we announced our focus on role-based training and certifications in September 2018, we've added a total of 34 certifications to our portfolio across Azure, Modern Workplace, and Business Applications. As we continue to expand on role-based learning offerings, all remaining exams associated with Microsoft Certified Solutions Associate (MCSA), Microsoft Certified Solutions Developer (MCSD), Microsoft Certified Solutions Expert (MCSE) will retire on June 30, 2020.
When MS Announces Impending MCSA MCSE MCSD Retirements, Then What?
Of course, this shift has been underway at Microsoft Learning since September 2018. MS is axing its big-name, freestanding certs, and promoting role-based certifications. There are a lot of them around (34, according to the preceding quote). In fact, MS now lumps them together with MTA and MOS certs. (Explanation: MTA = Microsoft Technology Associate, and MOS = Microsoft Office Specialist.) All fall under various job roles at the "Browse all certifications" page at MS Learning. Overall, these include:
| | | |
| --- | --- | --- |
| AI Engineer | DevOps Engineer | Messaging Administrator |
| Administrator | Developer | Modern Desktop Administrator |
| Data Analyst | Enterprise Administrator | Security Engineer |
| Data Scientist | Finance & Operations Consultant | Solutions Architect |
| Database Administrator | Fundamental Skills (MTA) | Teamwork Administrator |
Heads-up: that's 15 roles in all, if you'd care to count them.
Thus, when retirement rolls around at mid-year in 2020, MS certification finishes its total make-over. Truly, I'm a little saddened and nostalgic about this evolution, but it's inevitable for many reasons. Of course, Azure leads this new parade. It proves the importance of virtualization and (or in) the cloud. Get ready: It's almost time to say hello to a brave new world.
Cheers!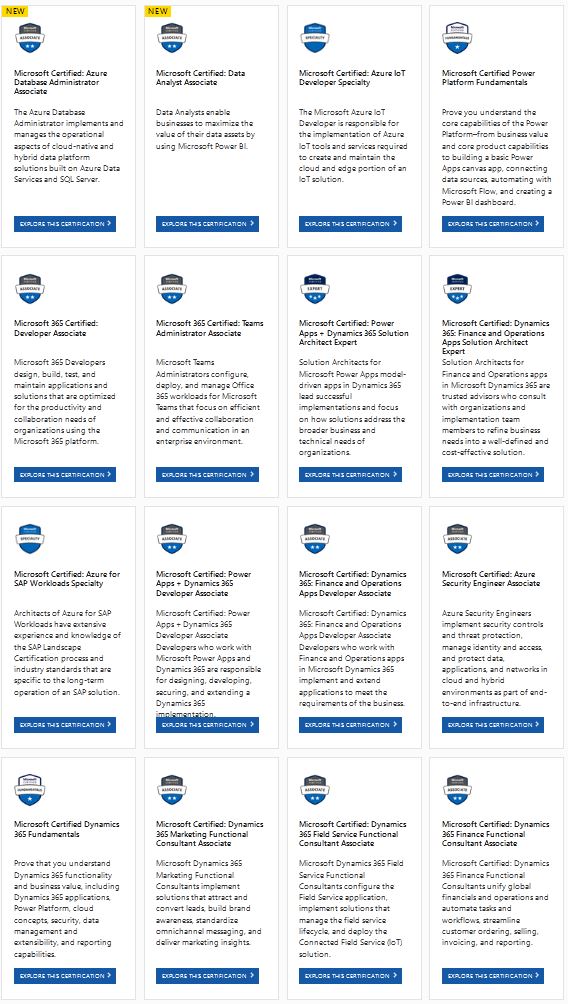 Above, you'll find the first 16 (of 70-plus items) that show under "Browse all certifications" at MS Learning right now. It's downright fascinating…