Saw a fascinating announcement over on NeoWin this morning. UK company Integral Memory has announced release of a 512 GB microSDXC card next month (February 2018). No pricing information is available just yet. Even so, NeoWin speculates it will probably cost somewhere around US$249. Personally, it's astounding that we can now pack half a TB onto a circuit card smaller than my thumbnail. That's the same size, if not bigger, than all the SSDs I own. So buckle up kids: 512 GB microSD cards are coming, and will be here soon.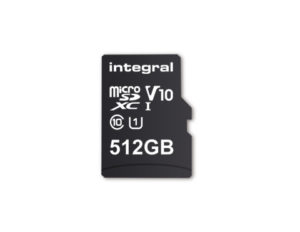 The inexorable march of technology lets more than a few angels dance on the head of this particular pin, eh?
Get Ready: 512 GB microSD Cards Are Coming!
According to its legend and its maker, the card complies with the Video Speed Class 10 (V10) standard. That means users can record HD video to the device in real time. According to NeoWin, this card supports transfer speeds of up to 80 Mbps. That's 20% slower than the 400 GB SanDisk card that ruled the size roost at 100 Mbps. Integral's spokesperson, marketing manager James Danton, explains the target audience for this device. "The need to provide extended memory for smartphones, tablets, and a growing range of other mobile devices such as action cams and drones has been answered."
At about the same price as a fast 500 GB SSD (a Samsung nVME 950 Pro goes for under $249 right now, while a 960 Pro goes for about $300), one wonders who really needs this device. But the appetite for storage is always there for some segment of the marketplace. I do get its appeal, particularly for GoPro and other mobile cameras that depend on ultra-compact flash storage.
As Capacities Climb, Older "Big Guns" Seem Smaller
I guess this size jump also explains why 128 GB microSDXC cards are cheap now. I bought one each for my Dell Venue Pro 11 and my Surface Pro 3 back in 2014 or 2015 when they were still pretty pricey, too. I've gotten good use out of those devices (but have neither the need nor inclination to buy up to this level). You can find them now for under $70 (quite a bit cheaper for slower media). When I bought mine, they were over $100 each.
Samsung is expected to release a 512 GB microSD card of its own manufacture sometime soon, too. I expect it will just be a matter of time before a 1 TB version comes down the road. Then, these pinnacle products have to step down a rung. Maybe then I'll think about buying up!