I have to laugh, so I don't cry. Despite rumors that its developer, Kyle Katarn, might republish his dandy Software Update Monitor (S U Mo) utility as Open Source code, the supporting servers shut down on November first. Notice the company slogan for KC Softwares (Katarn's company, and the program's maker) reads: "We are here to stay." Now that SUMo is turned off, there's some irony there, eh?
When SUMO Is Turned Off, Then What?
I had a general inkling that things might go sideways on November 1. Why? Because the website reads:
KC Softwares activities are to be terminated by end of October 2023.
All products are to be considered as End-Of-Life (EOL) on October 31st 2023.
And indeed, when I tried to run the program on November 1, I got an error message as it tried to scan its database for the first item in its inventory (7-Zip, by virtue of its position at the top of the alph sorting order).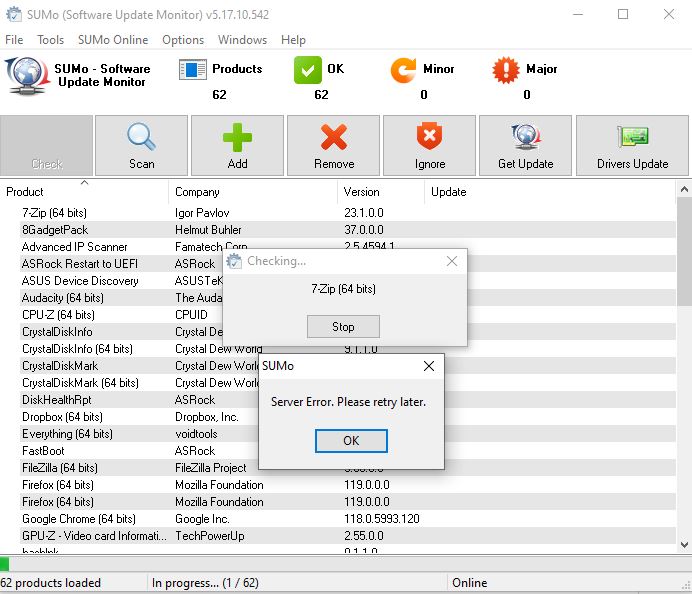 Trying again later is not going to help. The server is off.
Other, Less Palatable Alternatives
LifeWire has a September 11, 2023 story "11 Best Free Software Updater Programs." At this point, I've tried them all. I'm a big fan of Patch My PC, but it doesn't cover enough of my installed software base to do the job on its own. And so far, none of the others have really captured my fancy or regard.
Why is that? Most of the free versions have paid-for counterparts. And most of them also qualify as "teaseware" — that is, they tell you about things they could do for you if you purchased the paid-for version. For now, I'm getting by with winget (and WingetUI), Patch My PC, and a bit of elbow grease. Hopefully, a real contender will emerge (and sooner is better than later).
Stay tuned! I'll keep you posted. But don't hold your breath, either. This could — and probably will — take a while…