Some running Windows 11 who might want an alternative to the native Start Menu. For those folks, Stardock's latest Start11 release offers a nice option. Please understand this is NOT free software. Those upgrading a Start10 license must pay US$4 for the bits; first-time buyers must pony up US$5. Either way, it's a pretty good deal IMO. As a long-time user, when Start 11 gets v0.9 update, I pay attention. Others may not be so inclined.
When  Start 11 gets v0.9 update, What Do You Get?
Start11 gives users a pretty broad range of functions for a small price. It allows them to make the Start Menu look like the ones from Windows 7, 8 or 10 (and of course, 11 as well). Here's the UI "pick a version/layout" control: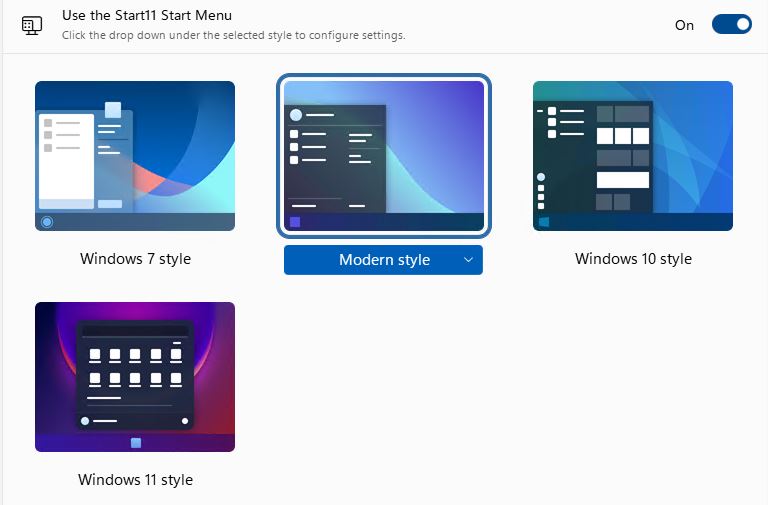 You can pick from Windows 7, 8 (Modern style), 10, and 11 styles for the Start Menu layout, look, and feel.
You can pick an icon for the start button, and position the start button at left or center in the taskbar (or even up top). As for the taskbar itself, Start 11 offers a number of controls, including blur, transparency and color; the ability to apply a custom texture; right-click menu controls (which bring back the old Windows 10 style right-click pop up), and a bunch of tweaks for taskbar size and position, plus separate positioning controls for primary and secondary monitors. I like it, myself.
Search can be tweaked in a variety of ways, including disabling built-in search. Search result filtering can use icons, search can peruse file contents and well as names, and more.
Alternate Menus Appeal to Some
I know plenty of purists who want to use only native. built-in Windows controls and utilities. I am not such a person. If you are, Start11 will have no appeal to you. But if you've got users who want to be productive right away and already know their way around an earlier Windows version, Start11 can be a real blessing.
Right now, I'm running one machine with native facilities only, another with Start10 on Windows 11 (it works), and this one with Start11 set to run in modern layout mode. I'm watching for issues and gotchas, and will keep readers posted. I'm glad I feel comfortable getting around Windows11 using a variety of menuing tools and techniques. I remember being baffled, bothered and bewildered when Windows 8 first came out. Thank goodness, that's no longer an issue.