It's not a crazy question. It goes something like this: should users/admins install and restart after a single Cumulative Update, or can they allow multiple such updates in series? I just tried the latter on a couple of PCs, and everything turned out OK. I believe it may take a little longer to do them one at a time anyway (because of the time delay of the "extra restart"). But recent experience strongly asserts that stacking restartable updates works OK.
If Stacking Restartable Updates Works OK, Let 'em Rip!
This time around, Windows 11 got KB50100474 (.NET Framework 3.5 and 4.8) plus KB 5010414 (CU for Windows 11 x64…). I ran the drill on my Lenovo X1 Carbon (production Windows 11) and my Lenovo X380  Yoga (Beta/Insider Preview Channel Windows 11). Both got to the desktop through the reboot process in under 2 minutes. In my experience with various updates, that's pretty fast in general for any single CU let alone 2 of them together.
Running DISM's start component analyze and cleanup functions afterward, I found 2 reclaimable packages resulted from the updates. Cleaning them up regained affected PCs about 1.93 GB of disk space in the component store. It took about 8 minutes to complete. Worth doing, for sure!
Note: Don't be disturbed by the "double progress bars" (see next screencap) for the /startcomponentcleanup bit. That always happens unless you reboot the PC before running this command after applying an update.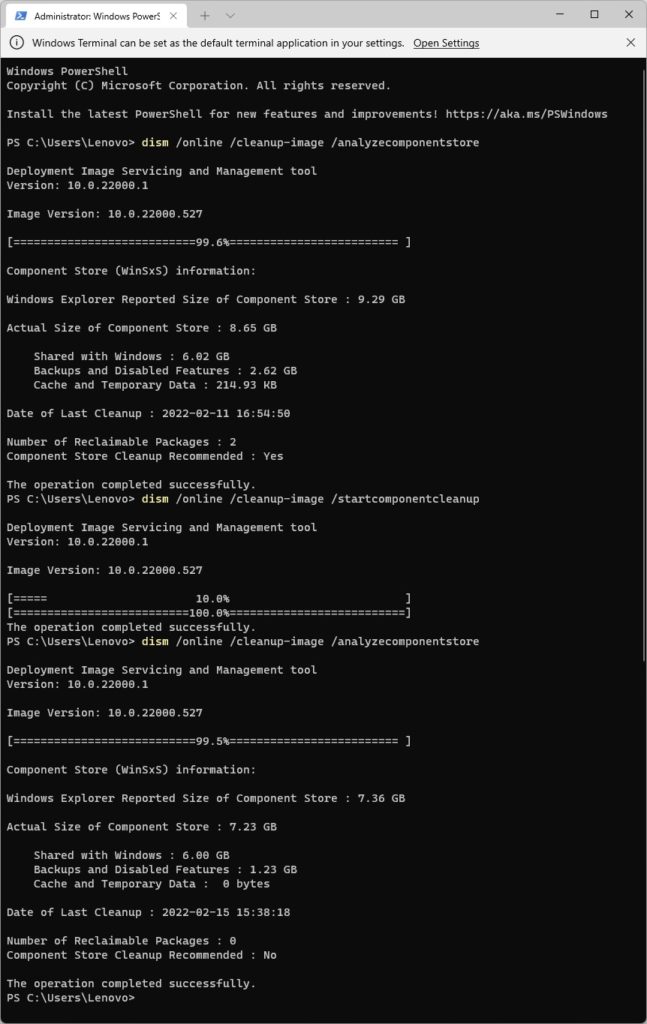 After stacking two CUs it's no surprise that 2 reclaimable packages show up in DISM analysis of the component store.
I must say MS has Windows 11 working pretty well of late. I have yet to experience anything serious in the update/maintenance department since last October, when the official release emerged into public view. Good stuff!