If you're going to walk the Windows Insider path, it really, really, really helps to read Build announcement blog posts. These pop up like clockwork on the Windows Blogs. Thus it was for Build 21364, the latest Dev Channel Insider Build released April 21. Although my problem didn't make the first cut of that blog post, the Insider Team quickly added a note about it when reports started flooding in. It shows up as the lead-in graphic above, in fact. And indeed it shows that RTFM Illuminates 21364 Install Error by taking responsibility for install issues with KB5001030, and promising a forthcoming fix.
After I got through the upgrade install, a notice to install KB5001030 Cumulative Update Preview for .NET Framework 3.5 and 4.8 appeared on my two Dev Channel PCs. On one of them, it sailed through to completion (the Lenovo X220 Tablet, vintage 2012). On the other (the Lenovo X380 Yoga vintage 2018) it failed repeatedly. Here's what WU says about this on the X380: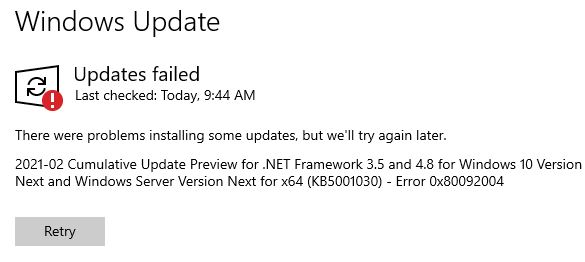 Even after a complete WU reset, the error persists. That's when I re-checked the announcement post…
How RTFM Illuminates 21364 Install Error
You've already seen what I found in the blog post when I went back to check again. This terminated my WU troubleshooting immediately. Thanks to this text "We are working on a fix for a future build." I knew this was not something I could fix on my own.
I must say the Insider Team is doing a bang-up job lately in acknowledging and responding to issues as they break. In that same vein, the issue I reported here in my Tuesday item about "News & Interests Follies" has already been fixed. Both of my Dev Channel test machines now have a working News & Interests item that behaves as it should. Still waiting on same on my Beta and Release Preview channel test machines, though…
In closing, I will say I've learned through experience to read announcement blogs for new Insider releases carefully. This is the first time that a return to said announcement has conferred additional illumination. But it's emphatically not the first time such an announcement has informed me of pending issues, so I can steer clear or work around them. Good stuff!