The last two Dev Channel builds are 25145 and 25140. For both of them, my Start Menu has been munged when first accessing the desktop. On 25140, a restart set things back to rights. On 25145, I launched File Explorer, then restarted the process in Task Manager. That worked, too. So while recent 25145 Dev Channel hijinks have been irksome, they've been by no means insurmountable.
Limits to Recent 25145 Dev Channel Hijinks
Interestingly, this phenom occurs only my Lenovo X12 Hybrid Tablet. It does not pop up on the Lenovo X380 laptop. I don't see any interesting errors in Reliability Monitor on the X12 that could point to possible causes. Once again, I find myself wondering if it might be related to 8GadgetPack, which has wonked around for a while lately  in the wake of new Dev Channel builds.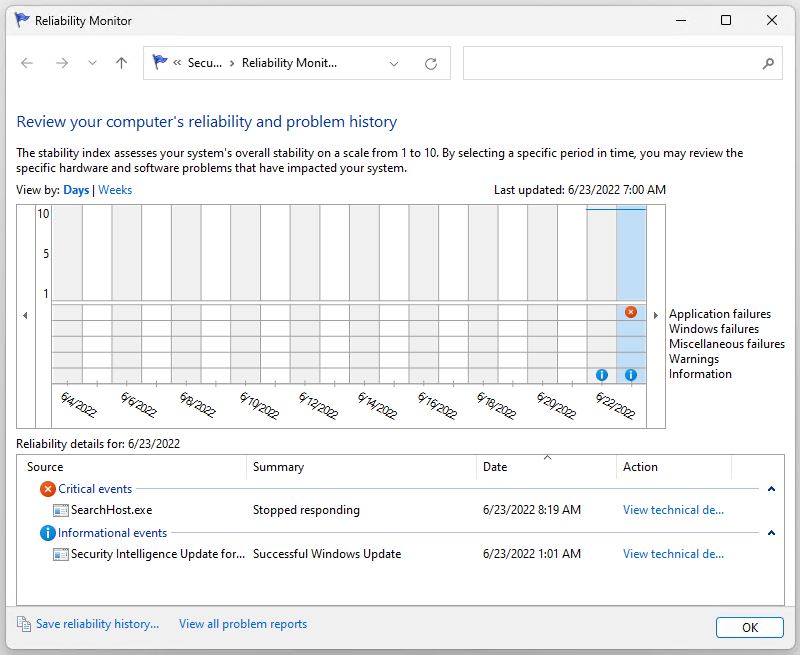 This time Relimon doesn't have much useful to say (the SearchHost item is a known gotcha, unrelated to my issue).
Frankly, it's hard to pinpoint the cause of this trouble without more data to go on. But now that I know how to work around it without a restart, I'll keep plugging away as new Dev Channel builds keep coming. Either the problem will get fixed in the background, or I'll get enough data to identify — and hopefully deal with — the actual cause.
FWIW, I've sent feedback to the hub about this. It's entitled "Build 25145 start menu nonresponsive on first boot." Please upvote if you encounter the same thing on one of your Dev Channel PCs or VMs. Cheers!