Clint Rutkas and his team have been talking about it for months. I've been waiting to check it out myself. That's right: in its latest release, PowerToys v0.49.0 gets video conference mute capability. Right now it's available through GitHub, though I expect it's just a matter of time before it comes via the Microsoft Store. The new control page in settings serves as the lead-in graphic for this story.
What PowerToys v0.49.0 Gets Video Conference Mute Means
I run at least 4 different video conferencing platforms regularly: Zoom, Teams, Blue Jeans, and Google Meet. From time to time, I'll get invited to another, similar platform for online meetings. Each of them offers a mute capability, but each one uses a different control in a different place in its app window.
What I like about Video Conference Mute in PowerToys is that it offers one single set of controls for mike and camera, for all such apps. Here's the set of keystrokes it uses: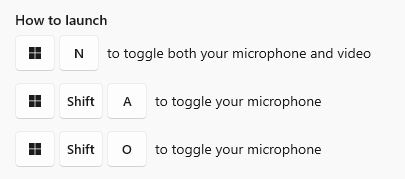 Keys to toggle the mike and video together, or separately. Good stuff! (Source: PowerToys built-in Welcome docs)
For those already using PowerToys, an update is in order. For those not already using the tool, you can simply run the installer and it will set you up. Then, right-click the PowerToys icon in the notification area to open its UI, and go to the VCM pane. There you simply need to move the slider labeled "Enable Video Conference Mute" to on (as shown in the lead-in graphic if you exercise the option to view it on its own web page). It's just that easy. I already liked PowerToys a lot, but this latest and long-anticipated addition just made me like it a whole bunch more. Check it out.