For the past two weeks and more, I've had a recurring problem on one of my Canary Channel Insider Preview test PCs. On that Lenovo ThinkPad X380 Yoga, each time I run WU the same error appears upon completion. It reports a specific installation error  — namely 0x80070057 for a so-called "Windows Intelligence Update."  And despite all my research and repair attempts — including use of TenForums excellent reset/re-register batch file — nothing has cleared this error message. That's why I see it as a persistent Windows Intelligence Update failure mystery.
Handling a Persistent Windows Intelligence Update Failure
I've been hoping — perhaps against the odds — that some new feature update would fix this issue. But so far, it hasn't. What makes this whole thing a mystery is that you can find these failures in Update history, they still don't help illuminate things much.  Here's a snapshot, which I'll explain afterward as best I can: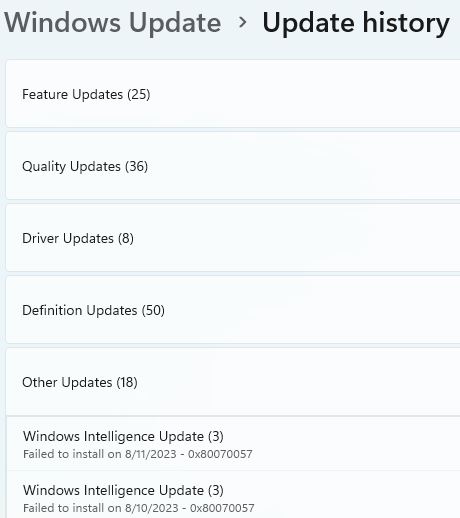 Turns out this update shows up under "Other Update" but it references no related KB number.
Notice that the error repeats thrice (3) on both reported days. Though it's been going on far longer than August 10 and 11, that's all the information about this error that shows up in this update history view. Even checking alternate views using the old-fashion wmic command or the Get-WUHistory PowerShell cmdlet fail to shed further light What really vexes me is that this type of update includes no corresponding Knowledge Baase article number to explain what it is and what it does.
About that Error Message
If you look up the error code online, you'll find a MakeUseOf story that includes these suggestions (I have bolded the one I think applies here):
Error 0x80070057 usually occurs when:

You are trying to back up your files, and there is corruption.
You are trying to install a Windows operating system and the System Reserved Partition is corrupted.
Corrupt registry or policy entries are interfering with the Windows Update process.
There were some problems installing updates, and the system will attempt to try again later.
Alas, this doesn't tell me much about how to fix the underlying issues which have now persisted through two feature updates. I've attempted to fix the disk structure, run both dism /restorehealth and sfc /scannow, used the TenForums reset-reregister-WU batch file, and even run an in-place repair install. Nothing has worked. This remains a mystery despite my various attempts to find and fix things. If I can't come up with another strategy soon, I may just perform a clean install and start over. Time will tell.
And that's the way things go here in Windows-World. Sometimes you fix the error, and sometimes you have to extirpate it by starting over afresh.
Note Added August 18
Sometime earlier this week, this mysterious failure disappeared. I'm now able to run WU sans error messages of any kind. My WU update history shows no more failure messages either — but I do see two successful "Windows Intelligence Updates" therein. One's on August 11 (the very day I filed this item); the next is on August 17 (yesterday). Even a more detailed examination with Get-WUHistory fails to turn those earlier issues up (but then, it got upgraded a couple of days ago. I think that clears earlier update history).