I'm still running my 2012 vintage Lenovo X220 Tablet. It's so old, it's got an Ivy Bridge CPU (i7-2640M). I've been getting signs for the past year or so that this PC is nearing obsolescence. For one thing, the Intel Management Engine always comes up in a "recovery state" which I've learned means the related firmware is no longer working. In the past month or so, this old PC shows interesting update behaviors. That means it often hangs during update downloads at 0% complete, especially for Windows Defender Security Intelligence updates. Take a look at the lead-in graphic to see what I mean (reproduced below so you can click on it to see all the details).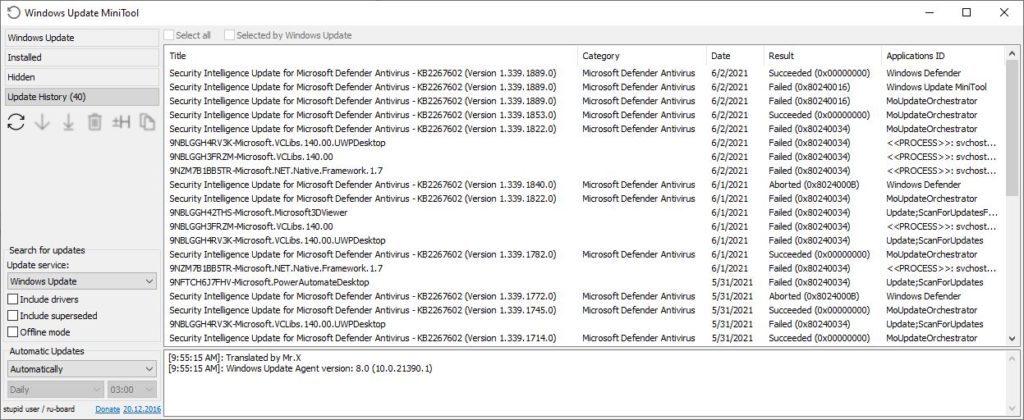 Click on image for full-sized view.
What Old PC Shows Interesting Update Behaviors Truly Means
Simply put, Windows Update isn't working reliably on this PC any more. This has persisted across the last half-dozen or so Dev Channel upgrades. The only way to break the logjam seems to be to bring an old tool into the mix — namely, the Windows Update Management Tool (aka WUMT).
If you look at the lines from that application dated June 2 in the lead-in graphic, you'll get an idea of what's going on. Notice, the third line from the top shows Defender update failed from MoUpdateOrchestrator. That's the native service inside WU that coordinates automatic updates. Next, WUMT itself fails (because I actually launched it AFTER firing off a manual update scan in Windows Security's Virus & Threat protection). That shows up as Windows Defender under "Applications ID" in the top item, and is the one that succeeded.
What Makes This Update Behavior Interesting?
As you can see in the update history, none of the update agents (apps) always succeeds. Sometimes, MoUpdateOrchestrator (WU itself) works. Ditto for Windows Defender and WUMT. I keep using WUMT, though, because it seems to break the 0% download logjam pretty reliably (even if it doesn't always end doing the download itself, as the lead-in graphic shows).
I am getting a strong sense that the X220 Tablet is nearing the end of its useful life. That's because I'm deliberately using it to push the envelope to see how well aging hardware copes with Dev Channel Insider Preview builds. When it becomes more work to troubleshoot and get upgraded, I'll give this machine to my friends at ReGlue and promote one of my two 2018 vintage Lenovo X380 Yoga PCs into that role. If the X220 Tablet is any indication, they should be good for at least another 6 years or so!