In the process of bringing up a B550 motherboard with AMD Ryzen 5800X CPU, I found myself wondering about Windows 11 hardware requirements. Specifically about Secure Boot and TPM 2.0 support, both mandatory to meet those requirements. Looks like Asrock, and probably other mobo makers, are thinking along those lines, too. On August 6, that company released version 2.10, in which that new BIOS defaults target Windows 11. The lead-in graphic specifically states "Enable AMD CPU fTPM in BIOS default."
Things Get Easier When New BIOS Defaults Target Windows 11
Before flashing the mobo to the new BIOS I'd started messing with the firmware TPM (fTPM) settings therein. Amusingly, to flash the BIOS one must first disable fTPM settings. More comforting, the post-update version enables fTPM by default and no longer requires such contortions for subsequent re-flash operations.
I just learned some new and interesting factoids about the Ryzen 5800X CPU — namely:
The part has a TDP of 105W, well within my new build's power budget of 750W.
The part runs a Vermeer core at 3.8 GHz with 4MB of cache.
Memory speeds of up to 3200 MBps DDR4 are supported. I purchased 2667 to save a little on cost.
When to Take the Upgrade Plunge
The current build is running Windows 10 21H1 Build 19043.1165. I plan to keep it at the current Windows 10 production build level until MS formally releases Windows 11 upgrades via WU. If this PC doesn't get an offer by the time an official ISO appears, I'll download same and forcibly upgrade that PC through an in-place upgrade. I paid good money to make the machine ready for Windows 11. Thus, I want to take it to Windows 11 as soon as a production version is available.
Next, I'll be planning my own production desktop upgrade. Before bringing the 5800X/B550 build up, I'd been thinking about taking the other desktop down the Intel upgrade path. But now, seeing how fast and fluidly this system runs, I'm increasingly inclined to do the same thing again inside my bigger Rosewill Blackhawk case. I still have a month or so in which to make my buy. Count on me to keep you posted in the interim. Cheers!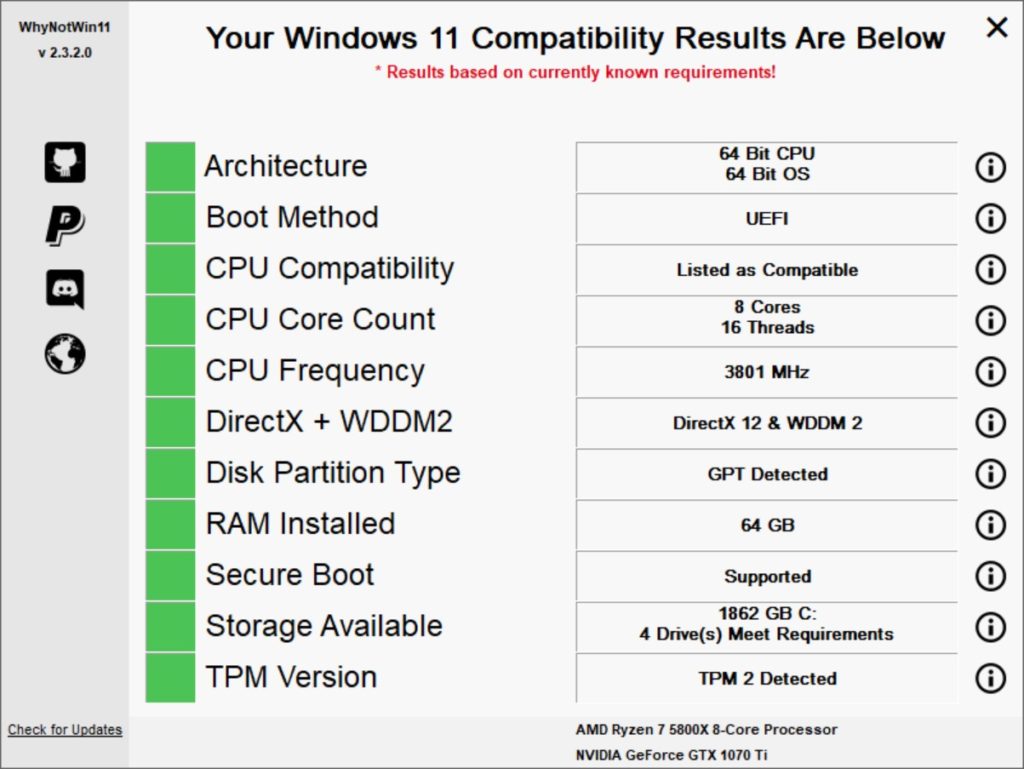 Output from the WhyNotWin11 program after flashing the BIOS shows the system 100% ready for Windows 11.
[Click image for full-sized view.]