There's all kinds of incredible news and information flowing like a river from the ongoing Microsoft Ignite 2021 virtual conference. In fact, it's underway right now. Even better,  online registration is free. Use the URL myignite.microsoft.com, where you can register or view a complete list of sessions. If you can't attend real-time, many/most sessions will be recorded. Thus, you can  view them later on.  That said, registration is required to attend.
How Is It That MS Ignite 2021 Sparks Changes Galore?
A quick view of the Ignite Session catalog shows 384 sessions spread over its planned three-day schedule. To begin: today, March 2, is day 1. Next, tomorrow, March 3, and Thursday, March 4, are days 2 and 3.
As I write this, Satya Nadella and Alex Kipman are delivering the keynote. Also, today's session topics include "the hybrid workplace," in which WFH combines with access to cloud-based services and resources. Further on today's docket: security, edge AI solutions, Azure-based enterprise solutions, and more.
For sure, those who who dig through the session catalog will find something for every interest. IMO, Ignite has spread its net widely this year. It should appeal to professionals of all kinds. Certainly, Ignite is well-known as a developer conference. But in 2021, Ignite appeals to IT across the board, including architects, operations types, and service and support pros. Shoot! Business stakeholders with interests in ROI technology boosts will also find plenty of interest here, too.
What's at Ignite 2021 for YOU?
You can't know until you take a look. That means opening up the session catalog, and browsing its contents. To spur your interest, here's a peek at the top of page 2: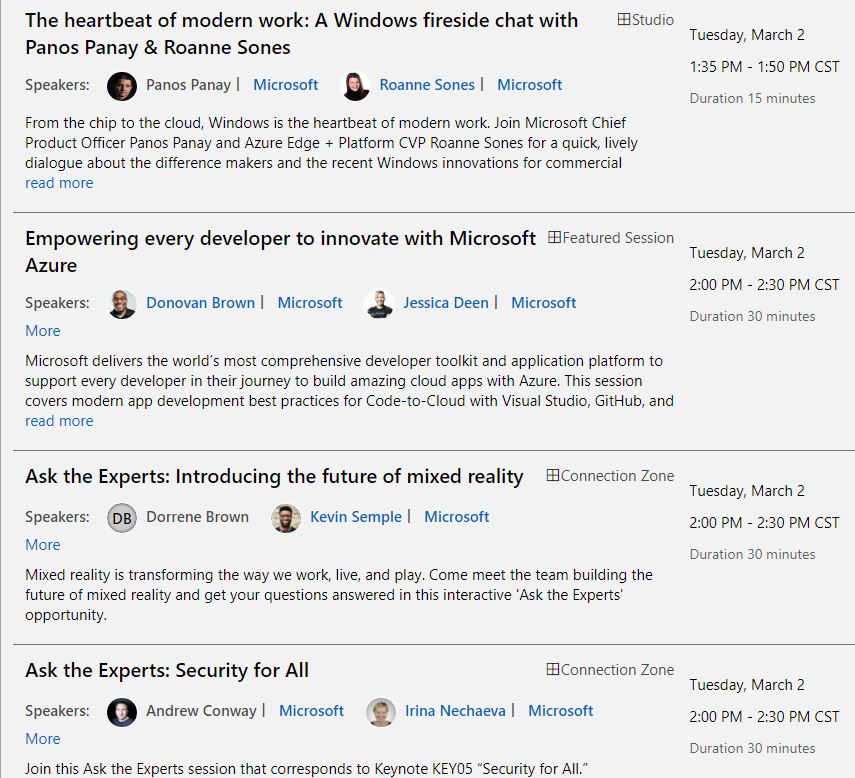 A quick peek at Page 2 of the Session catalog shows sessions on Azure at work, developer innovation, speculations on mixed reality, and a wide-ranging Q&A with security experts.
[Click image for full-sized view.]
As the old saying about the lottery goes: "You can't win if you don't play." For Ignite 2021, that means you can't appreciate its wealth of offerings and learning opportunities unless you register, and dig in. Enjoy!