Having secured permission from the Chancellor of the Exchequer (aka, "The Boss" — namely, my wife Dina) I recently purchased a new Fujitsu Windows tablet convertible, model Stylistic Q704 Hybrid Tablet PC with the keyboard dock/extra battery option. The price came in at over $2K, which is kinda painful for a 12.5″ tablet, but when the Boss said I could go for it, go for it I did. Now I'm learning to live with it. Here's a snazzy publicity still: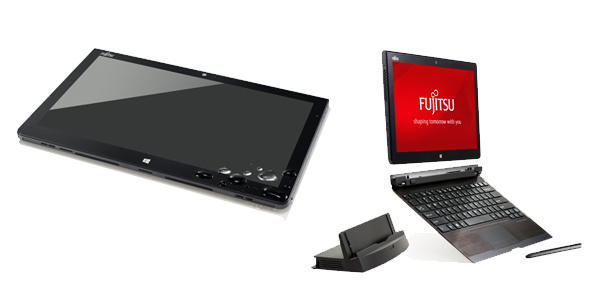 The Q704 is "semi-ruggedized," mostly waterproof, quite compact, and comes with a mind-boggling array of add-ons (NFC, fingerprint scanner, TPM, 256 GB SSD, and so forth).
Imagine my surprise when I unboxed the unit and found it came with Windows 7 pre-installed, despite my having ordered Windows 8.1 for the machine (what's the point of a tablet PC without a genuine tablet-friendly OS to run on it?). Turns out this is the way Fujitsu still ships those units, and it was up to me to install the factory image of Windows 8.1 that came on the three DVDs that accompanied the unit to my doorstep. Imagine my further surprise when, after installing aforesaid "factory-fresh image," I still had to root out and install a plethora (30-odd) of device drivers to bring the machine fully up to snuff. This took me the better part of a day-and-a-half I didn't expect to have to invest in turning the machine into what I thought I'd already bought. Sigh.
Along the way down that path, I did make the acquaintance of the "Fujitsu Software Download Manager" aka FSDM. This nifty little program jumps up to the Fujitsu support pages, and makes it easy to grab any and all drivers that you might need, based on your machine and the OS you've got installed. It proved invaluable in getting me over the proverbial driver hump I faced after upgrading from Windows 7 SP1 to Windows 8.1 on the machine. Without running into too many difficulties, I was able to find and install all the drivers I needed for the unit. Right now, everything's working except for the fingerprint scanner and the NFC module, and I'm on the phone waiting to talk to Fujitsu tech support to figure out how to lay hands on the right software needed for that stuff. Ultimately, the support tech agreed with me that while the support pages make drivers available, they don't offer the software needed to actually use the fingerprint scanner and NFC module to do something. Third-level support is looking into this on my behalf…
I've run into some other interesting issues while getting familiar with the machine and getting everything to work. For one thing, I have had the USB port on the keyboard dock disappear from accessibility for both Windows 7 and Windows 8.1, itself more than mildly galling. Worse yet, I've had the keyboard dock itself "go missing" on a couple of occasions. But the tablet is pretty snappy and works surprisingly well, considering how much functionality they crammed into a pretty small tablet deck. I've tested the battery life under pretty heavy load using BatteryEater, and it comes back with a pretty respectable 3.5 hours for the built-in battery by itself, and just under 7 hours for the unit plugged into the keyboard dock with its extra battery. Under a light simulated load (Internet surfing, e-mail, MS Office) battery life goes up to 4.4 and 8.7 hours, respectively. Good enough for a whole day's work is good enough for me!
The unit is pretty heavy with the keyboard dock, though. My office digital scale pegs the unit at 4 lbs, 12.7 oz (2.175 kg) with dock attached, and 2 lbs, 2.2 oz (970 g) by itself. My son loves using the tablet as such (he's taken to Windows 8 like a duck to water) and I'm not dissatisfied with the unit as a notebook PC with the dock attached (aside from occasional connectivity issues with USB, as already described).
Interestingly, Gabe Topala's mostly excellent System Information for Windows (SIW) reports the built-in video only as "Haswell-ULT Integrated Graphics Controller." I had to use the Intel Driver Update Utility to learn that Intel thinks it's an HD4400 graphics module. Whatever it is, the performance on a 1980×1080 full HD resolution IPS panel works just fine for basic desktop productivity, and handles what video I've thrown at it on Hulu or Netflix with aplomb. The WinAero Windows Experience Index (WEI) utility gives it pretty low marks, though: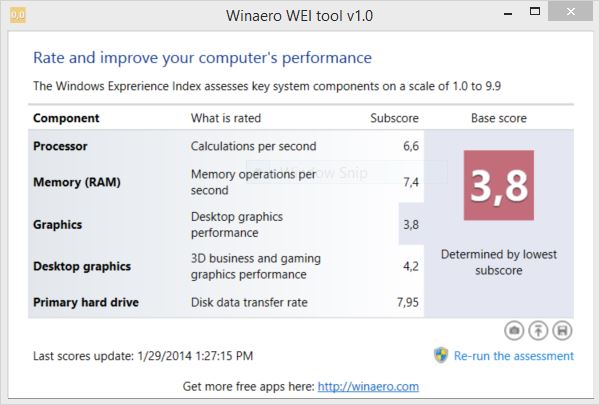 What a spread with the RAM and SSD on the high end, and graphics on the low end, for this hybrid tablet PC!
I also ran into some interesting difficulties with the WinAero WEI Tool on the Fujitsu. After reading that Sergey Tkachenko, the program's maker, built the tool around the Windows Presentation Foundation (WPF), I deduced it needed some legacy .NET support to work. It turns out you must go into Programs and Features in Control Panel, then into "Turn Windows features on or off" (Windows Features), and then check all of the .NET Framework 3.5 and .NET Framework 4.5 checkboxes available there to take full advantage of the built-in .NET support that Windows 8.1 delivers. Once I did this, the program worked like a champ. Before I did this, it didn't work at all. I've not encountered this on machines I upgraded from Windows 8.0, so I'm guessing this is fallout from a clean Windows 8.1 install on the unit. As always with Windows, my experience remains: "Live and learn!"