There's a new set of Intel ARC drivers for built-in GPUs (and of course, discrete ARC devices as well). How do I know this? I just updated one of my Canary Channel test machines. During that process, I saw the Intel ARC drivers arrive via WU (Windows Update). Until this morning, I had been obtaining them exclusively from the Intel Driver & Support Assistant.
You can see the information about this latest driver from its Intel download page above. Notice the version number: 31.0.101.4146.
How Do I Know Intel ARC Drivers Arrive Via WU?
Check out the driver version in my Update History from the X12 Hybrid Tablet, captured minutes ago. Compare the version number for the "Intel Corporation – Extension" item and you'll see it's identical to the version number from the Intel download page.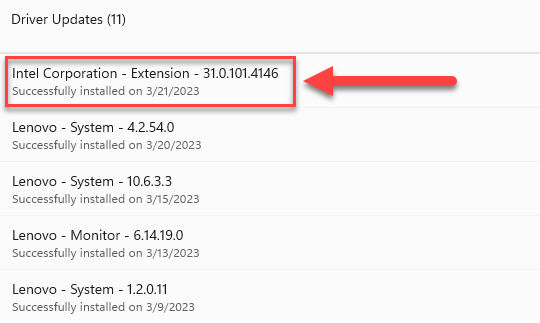 The name isn't terribly helpful, but the version number tells me what I need to know.<\p>
What else I can tell you about this alternate method is that it's MUCH faster than installing the driver (plus supporting software) from the Intel download page. It took only 20-30 seconds to complete. The full-blown Intel package takes minutes.
Does this mean I will occasionally need to visit the Intel page to update the Intel Graphics Command Center software? Nope. The IGCC that works with Intel GPUs is a Windows Store app. And it updates itself, either through routine checks, or when you try to run that app the next time after installing a new driver.
Hey!  I might actually like this. It's faster and less work that using the Intel Driver & Support Assistant. Good stuff, and good job: MS & Intel!