I got a nice surprise from FedEx last Friday, April 5. An early knock on my door brought a couple of welcome boxes. Courtesy of Jeffrey Witt, Director of Lenovo's Global Product PR, those boxes housed a couple of 8th Generation i7-based laptops. Mr. Witt graciously acceded to a request I made late in 2018 for a Carbon X1 Extreme, and an X380 of similar vintage. Images and specs will follow, but first, I have another story about some older Lenovo laptops to tell.
A Tale of Two Predecessors
Windows 8 actually has roots back to 2010/2011. By early 2012 Windows 8 was on its way, and technical previews were available. I got hired by Pearson/Que in January to work on a book, Windows 8 in Depth. I also knew Windows 8 was bringing big changes, most notably with the introduction of touch and the tile-based Start Menu. By the end of February, I knew I needed at least one touch-screen unit and one more test machine on which to run Windows 8 Technical Previews. That was the first time I corresponded with Mr. Witt, who was already involved with trade press folks and evals/loaner units. That time around, he helped me get a pretty deep discount on the two machines I bought for my Windows 8 work:
X220 Tablet: Sandy Bridge i7-2640M Dual Core CPU with Intel HD Graphics 3000, 500 GB spinner, 4 GB RAM, touchscreen, fingerprint scanner. Today, it has a 256 GB Plextor mSATA SSD, 16 GB RAM, and a SATA 256 GB SSD.
T520 Laptop: Sandy Bridge i7-2640M Dual Core CPU with Intel HD Graphics 3000, Nvidia Quadro NVS 4200M, 500 GB spinner, DVD player, 8 GB RAM, fingerprint scanner. Today, it has a 256 Plextor mSATA SSD, 16 GB RAM, OCX Vertex 4 128 GB SATA SSD, Seagate SATA III 1 TB spinner (replaced the DVD player with a SATA drive module).
I still use both of these machines daily. Considering that they're now over 7 years old, that's a real testament to their durability and usability. As I check my Windows Enterprise Desktop blog for Techtarget, I see 41 mentions of the T520, and 58 mentions of the X220 Tablet dating from April 2012 through February 2019. I have really *loved* these machines, and taken them from Windows 7 to 8 to 8.1 all the way to the current build for 1809 (Build 17763.404) on the T520, and the current Insider Preview 1903 (Build 18362.30) on the X 220 Tablet. Until the X1 Carbon Extreme showed up last Friday, the T520 had been my primary "road laptop." It's gone on every business trip I've been on since I bought it, and many of my personal trips as well. (My Surface Pro 3 and my late, lamented Dell Venue Pro 11 7130 also went along on many, if not most, family vacations.)
Say Hello to the New Kids in Town!
OK then, time for some specs on the new machines. But first, I have to gush about the Carbon X1 Extreme. I think it's faster and more powerful than my production desktop. My son has completely fallen in love with it and uses it for homework every night. This involves a lot of web surfing, and lots of interaction with various Google platforms elements (Docs, Sheets, and so forth, standard in his school district). He still gets 5-6 hours of battery life out of the machine, which means he can pretty much work untethered. He's also raved to me about its video playback capabilities. I'll take his word for it: I've had no real time to explore these systems in detail yet:
X1 Carbon Extreme: Intel 8th Generation i7-8850H (6 cores, 2.6 GHz) with Intel UHD Graphics 630, Nvidia GTX 1050 Ti 4GB, 32 GB RAM,  one each Samsung MSLVBxx NVMe 1 TB and 500 GB SSDs, fingerprint scanner and Windows Hello Face recognition, and more. From what I see on Amazon, this machine retails for around $2,600-2,700. It weighs far less than its predecessor, at a svelte 1.84 kg/4 lbs 0.7 oz.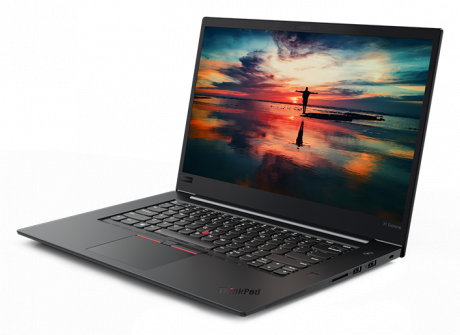 X380 Yoga: Intel 8th Generation i7-8650U CPU (4 cores. 1.9 GHz) with Intel UHD Graphics 620, 16 GB RAM, Samsung MSLVB10 NVMe 1 TB SSD, fingerprint scanner, and more. Checking Amazon again, I find a typical retail price of around $1,500 for this unit. This one weighs in at 1.6 kg/3 lbs (in round numbers: it's just a hair under 3 lbs, actually).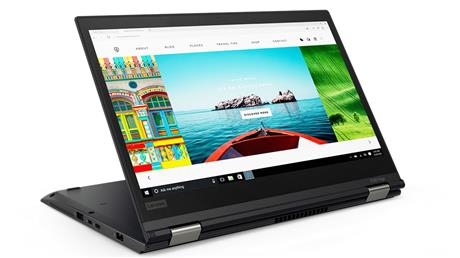 It's really far too early for me to do much more than ooh and aah over the latest laptops in my stable. As I have more time and opportunity to work with them, I'll be writing about them in more depth. So far, the only thing I miss on the X1 Carbon is an RJ-45 port for direct Ethernet plug-in (but I've got a USB 3.0 GbE dongle already anyway, so no biggie; Note added April 9: the unit has a built-in I219-LM GbE NIC–and surprisingly, so does the X380–but you have to buy a special cable to get from its compact proprietary port to an RJ-45. Might be worth acquiring, though). I'm planning to acquire some big (256 GB+) SDXC devices for both machines, to further extend their storage. Another big difference with these newer models is soldered-in RAM (so no memory upgrades). But it's a tradeoff for their enhanced compactness, I know.
I'll close with a big THANKS to Mr. Witt and his RTP-based team. I really appreciate the opportunity to work with these machines, and hope to accomplish as many great things with them in the years to come as I've done with the T520 and the X220 Tablet. Now, if only i had time to really work them out. . .